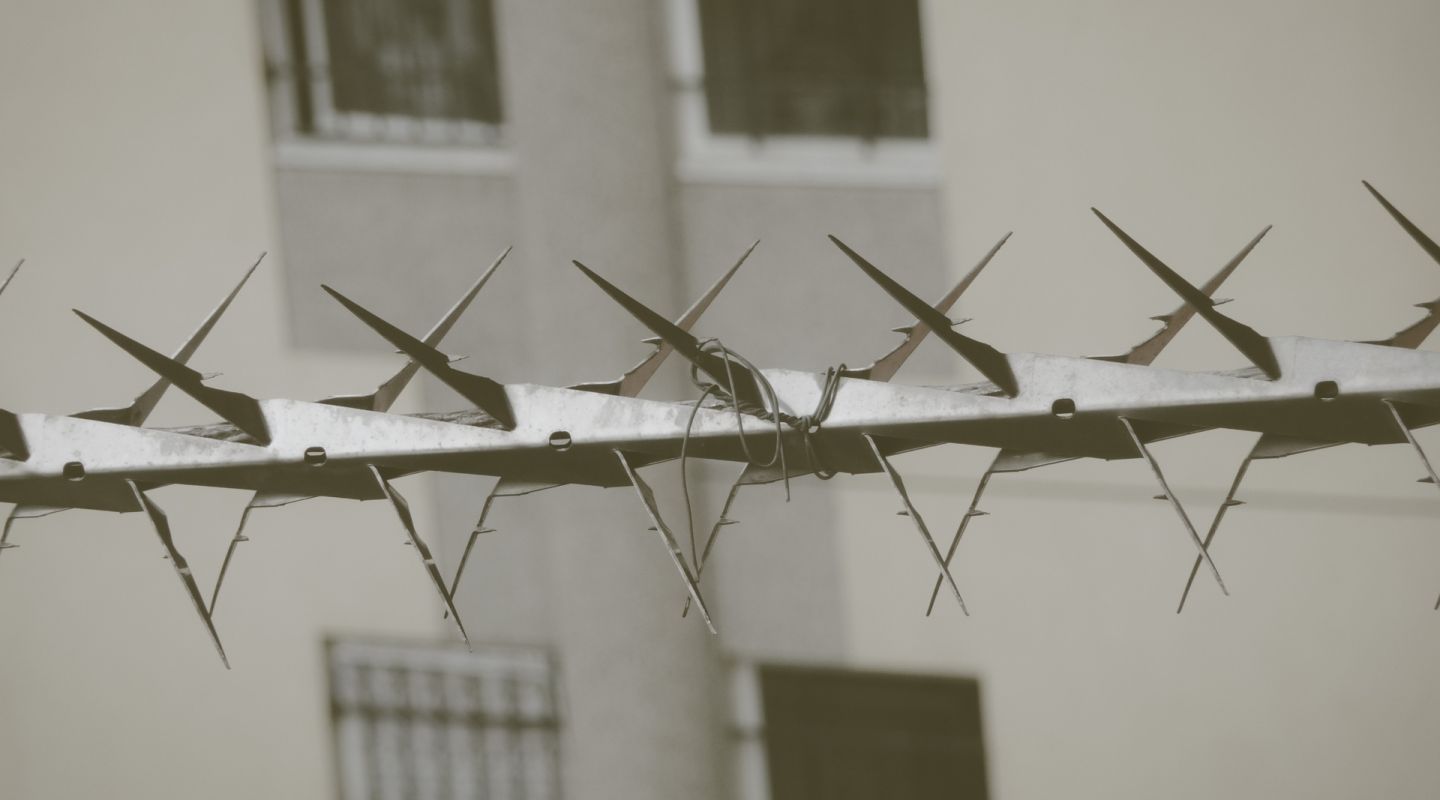 Back to map
France
Capital city —

Paris
Incarceration rate (per 100,000 inhabit…

i

2015

/ Penitentiary Administration

Name of authority in charge of the pris…

Total number of prisoners

i

2015

/ Penitentiary Administration

Average length of imprisonment (in mont…

i

2015

/ Penitentiary Administration

Total number of prison facilities

An NPM has been established

Number and percentage of female prisone…

i

2015

/ Penitentiary Administration

i

2015

/ Penitentiary Administration

i

2015

/ Penitentiary Administration

Death penalty is abolished
+
Specific population
Prison population
The number of incarcerated people was 77,291 on the 1st of January 2015 (66,270 people were effectively detained, while the rest were serving their sentences on the outside). Most of them are male (96.9 %). The average age is 34.6 years.
Incarceration has been a growing phenomenon for the last 40 years. There was a large increase between 2002 and 2012; the inmate population grew by one-third (from 48,594 to 64,787). The main reason is longer sentences (8.4 months in 2002, compared to 10.8 months in 2012).
The over-population is a result of the imposition of stiffer sentences, and not an increase in the number of new arrivals.
People waiting for sentencing represent 25% of detainees.
11,021 people serve their sentences out of prison (+ 2 % in 1 year), 10,419 of whom, are placed under electronic surveillance. 602 are under outside placement.
23 % of detainees serve a sentence of five years, or more. The number of people sentenced to life imprisonment is 475.

78 % serve a sentence of one year, or less.

31 % serve a sentence of three months, or less.
The over-population of incarcerated persons is mainly in the detention centres where the remanded prisoners and those serving short sentences are held (carte). On the 1st of January 2015, there were 12,000 extra detainees. The Prison Administration refuses to publish the statistics on over-occupation prison by prison.
This over-population also affects the establishments of the French overseas departments (density of 120.4, compared to 114.2 in Metropolitan France), and the regions around Paris (136.9) and Marseille (130.2).
Five establishments have an occupation rate greater than 200 %.
Particularly the Faa'aNuutania detention centre (296.3 %) and the detention centre in Tahiti (209 %). 81 facilities have rates between 120 and 200 %, such as La Roche-sur-Yon jail (197 %), the Ducos Correctional Facility (124.6 %), the Nouméa detention centre (121.3 %)
Nine inmates from the Ducos Correctional Facility filed a complaint to the European Court of Human Rights (ECHR), with the support of the French section of the IPO, on the 20th of February 2015. They are appealing for an end to the inhumane treatment, caused by the detention conditions in their over-populated facility.
Pre-trial detainees
i
01/01/2015
/ Penitentiary Administration
Women
The 2,073 female prisoners represented 3.2 % of the prison population, on the 1st of January 2015.
There are four facilities specifically for them, Rennes Correctional Facility and the Versailles, Fleury-Mérogis and Fresnes detention centres.

Most of the women are incarcerated in special units in prisons which are mostly male. The guards are female, but there may be male administrative staff.
With 2,450 spaces, the number of women can vary greatly from one facility to another. The female quarters at the Saint Etienne jail have 11 women in 18 spaces. The Lille-Loos-Séquedin Correctional Facility has 102 women in 160 spaces. Over-population is an issue in the female units of some jails; in Marseille, 89 inmates share 67 spaces (occupation rate 133 %), in Mulhouse there are 31 inmates for 22 spaces (occupation rate is at 141 %).
The General Inspector of Confinement Centres (Le Contrôleur général des lieux de privation de liberté (CGLPL)) issued a public statement on the 18th of February 2016, regarding the situation of women detainees. "Being few in number, they are subjected to serious discrimination when trying to exercise their basic human rights; difficulty in maintaining family ties due to an unequal territorial tangle of confinement facilities, inadequate physical living conditions because of their isolation to separate units, poor access to activities, limited or non-existent medical care in specialized facilities, and along with that, a lack of attention to the specific needs of women."
Feminine hygiene products are available in canteens (tampons, sanitary pads or soap), but are very limited.
Even though every provision is made to have pregnant inmates receive special medical care (mandatory prenatal care and the provision of prison escorts to outside medical facilities), deliveries and gynaecological exams are still conducted in the presence of prison staff. Medical care is sometimes refused.
Mothers may keep their babies until they are 18 months old. Babies born during their mother's incarceration, number in the fifties per year. The mothers and babies are placed in special cells (usually two cells are converted into one) with the appropriate equipment: a baby bath, a special area for mother and baby. Some facilities, like Fleury-Mérogis, have 15 spaces in a section, known as the nursery.
After having been alerted by Christine R. at the end of June 2015 to the detention conditions in the disciplinary unit of the Metz Correctional Facility, the French section of the International Prison Observatory filed a complaint to the CGLPL which, after a visit on the 20th of July last year, issued a clear-cut statement: deprived of walking outside, cells are permanently in the dark and there is a lack of privacy in the washrooms.
Female prisoners from the Poitier-Vivonne Correctional Facility listed, among others, the following demands in a "tract" dated on the 28th of April 2015, as well as the discriminations they experienced.
"(…) Locally, we ask for:
Improved nursery conditions: no nightly awakenings, a yard with grass and times for moms to socialize
Schooling for everyone: an end to refusals, based on the false excuse of mixed classes
More activity: presently, there are only "paper crafts" and "fitness", 2 hours per week
*Access to the soccer field: only men have this right *
Free in-house mail delivery: a stamp is needed to send a letter to the men's unit""
Female prisoners
i
01/01/2015
/ Penitenciary Administration
Juveniles
Children may be incarcerated as young as 13, but this is rare for those under the age 16. The criminal justice system for minors is specialized, under the 2nd of February 1945 ordinance regarding juvenile delinquency. The judges for minors, the youth court, and the criminal court for minors (Cour d'assises), are meant to provide procedures that are distinct from those for adults (taking into account the degree of responsibility, hearings behind closed doors, etc.).
There were 704 minors on the 1st of January 2015 (- 3.7 % in one year). They represent 1.1 % of the prison population.
Half of the minors are detained in six Juvenile Correctional Facilities (EPM), throughout the territory. The other half are in the 46 facilities for minors (quartiers pour mineurs (QM)). Minors are not always separated from adults, especially young girls, who can only be admitted to three EPMs. During its visit to the Épinal detention centre in April 2015, the CGLPL reported that three young girls were living among adult women.
Assignments to an EPM, or to a QM, are usually made in the personal interests of the youth taking into account; where they normally live, their educational needs, and the proximity of the jurisdiction handling the case.
With 1,113 spaces, the average occupation rate is 64 % (56 % at the Lavaur EPM and 95 % at the Marseille EPM). The EPMs have some 60 spaces each; the QMs have approximately 3 to 20 spaces. The Fleury-Mérogis QM differs in having 94 spaces for 74 occupants. The youth are, without exception, alone in the EPM cells. This is not always the case in the QMs.
The EPM detention approach is both punitive and educational. Incarcerated minors have access to group activities, but sometimes the establishment organises too many activities. Education is mandatory until the age of 16.
The Judicial Youth Protection Service (La Protection judiciaire de la jeunesse (PJJ)) is present. The other personnel (guards, health) receive special training. Penitentiary and teaching staff report on the difficulties they encounter, when their facilities are filled to capacity.
The IPO denounces the fact that daily walks outside are not respected for the majority of detained minors, at the Meyzieu EPM (Rhône).
Juvenile prisoners
i
01/01/2015
/ Penitenciary Administration
Foreigners
As of the 1st of January 2015, foreign inmates accounted for 19 % of the incarcerated population (12,591 people). 49.1 % of them were from Africa, 38 % from Europe, 7.4 % from the Americas, 4.4 % from Asia and Oceania and 1.1 % from other countries.
The non-institutional and non-generalized practice of "ethnic sorting" (where detention centres separate people based on their nationality or origin, real or imagined, and even on the colour of their skin), is still being carried out. Some prisoners request that they be placed with others, with whom they can relate.
Foreigners face discrimination regarding work opportunities, sentencing adjustment, and maintenance of family ties. They are even more vulnerable, when their problems related to the right of residence and their difficulties in speaking French, are compounded with daily prison difficulties. All procedures require written requests (a doctor's appointment, for example), which is not always possible for them. Obtaining an interpreter, which is supposed to be guaranteed at all procedural steps, including disciplinary, is next to impossible.
Illegal residency itself is no longer a criminal offence, but behaviours that result from it, may lead to prosecution.
Foreign prisoners
i
01/01/2015
/ Penitenciary Administration
LGBTI persons cannot be prosecuted because of their sexual orientation or identity.
In prison, they are often victims of homophobic or transphobic acts (verbal and physical abuse or sexual assaults).
Trans-sexual persons are not informed about any kinds of medical treatment they may require. Their medical requirements are deemed to be the same as those regularly offered by the institution. They are assigned to a prison corresponding to their sexual identity, only when their gender reassignment is recognized in their identity documents.
Their daily situations are assessed by prison staff on a case by case basis.
The isolation sometimes required for security purposes makes accessing work opportunities difficult, and almost impossible.
The Constitution states that "no one should be afraid of expressing their opinions, even religious ones, so long as their demonstrations do not cause public disorder."
Certain prisoners, particularly the Basques and the Corsicans demand to be classified as "political prisoners". They are incarcerated not for their opinions, but for the offences that their opinions have led them to commit.
90 Basque prisoners, 16 of them women, were incarcerated in September 2015 in 27 penitentiaries.
According to a list, there are 23 Corsican "political prisoners". The administration segregates these people into different establishments, in order to keep them apart. This affects their maintenance of family ties.
There are 73 Basques in prisons located more than 400 km from their homes, while the closer prisons of Mont de Marsan and Lannemezan have sufficient capacity to admit them. For loved ones to exercise their visitation rights, the average journey time is 7 hours and 30 minutes. Corsicans are also affected by long distances. The General Inspector of Confinement Centres (CGLPL) asks that their visit times be extended, that more emphasis be placed on family units, and that lateness be handled with greater flexibility.
On the 1st of January 2015, there were 3,021 detainees, older than 60 years of age (3.9 % of the total). A number which has increased 6 times in 25 years. Nearly half of them are incarcerated for sexual offences.
These people are not placed together in specifically assigned facilities or units. The facilities are not adapted to them; prison life and its routines are sources of anxiety for them. There is a lack of suitable activities, limited access to work opportunities and the availability of medical attention is minimal.
A suspended sentence procedure for medical reasons enables inmates, once a poor prognosis has been established, to spend their last days with their loved ones.
The health status of the incarcerated population is lower than that of the general population. The proportion of seropositive persons is four to six times greater, than those on the outside. The incidence of tuberculosis is ten times greater. Mental health is especially precarious: 25% of detainees suffer from psychotic problems, between 30 and 50% of them are on medication, which is often psychotropic in nature.
Persons who are ill do not usually receive continuing care. Few facilities are adapted for persons with disabilities. Certain services (reception areas, activity rooms) are not accessible when there is no elevator or access ramp, for example.
On the 19th of February 2015, France was condemned by the European Court of Human Rights, for having detained Mr. Mohamed H, who was paraplegic and incontinent, without providing any physical rehabilitative care, and putting him in conditions which were not suitable to his situation (lack of physiotherapy and the necessity of asking a fellow prisoner to help him bathe, due to the absence of accessible showers).
Persons who are ill may be eligible for early release, if a poor prognosis is established, or if their state of health does not permit them to stay in detention (296 requests for sentence suspensions were made for medical reasons in 2012 for 253 approvals, according to a 2013 ministerial report). The granting conditions are restrictive.