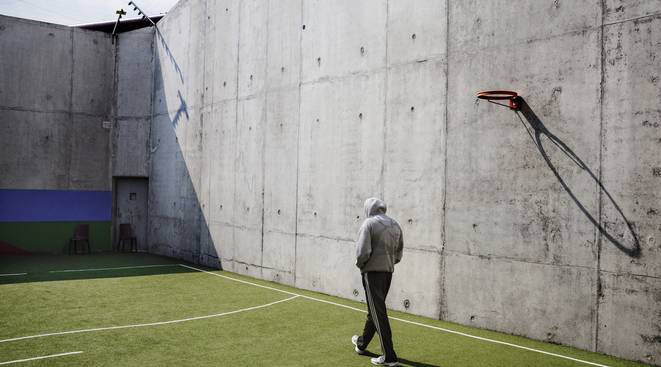 France
Capital city —

Paris
Incarceration rate (per 100,000 inhabit…

Homicide rate (per 100,000 inhabitants)

Name of authority in charge of the pris…

Total number of prisoners

i

06/05/2020

/ prison administration

Average length of imprisonment (in mont…

i

2020

/ Prison administration

Total number of prison facilities

i

01/01/2018

/ Prison adminsitration

An NPM has been established

Number and percentage of female prisone…

i

01/2020

/ Prison administration

i

01/2020

/ Prison administration

i

01/2020

/ Prison administration

Death penalty is abolished
+
Introduction
France started 2020 with a judgement of the European Court of Human Rights on 30 January. In this decision, considered "historic", the ECHR concluded there is a "structural problem" within the prison system and called on authorities to put an end to the overcrowding and degrading detention conditions.
By March, the coronavirus had spread throughout the world. There was increasing concern and prisons were regarded as a potential epicenter of the pandemic. The number of incarcerated people in France rose to 72,575 for 61,000 places. Sometimes, three or four prisoners had to share a cell in rundown facilities.
Early release measures, combined with a decrease in legal proceedings, contributed to a considerable decline in the prison population, something for which observers, civil society organisations and prison staff had been advocating.
In May, the country had more spaces than prisoners. Nevertheless, this unprecedented ratio in the recent history of the prison administration disregarded the existing disparities: some jails were still seriously overcrowded.
Visits, and the vast majority of activities, were suspended during the first lockdown between 17 March and 11 May. Families of incarcerated people were concerned about the breakdown of family ties, the increased isolation of prisoners and the impact of the restrictions on their mental health.
In July, Eric Dupond-Moretti, a lawyer known as an "Acquittator", was appointed by the government to replace Nicole Belloubet as Minister of Justice (Garde des Sceaux), a nomination which worried some judges. Adeline Hazan's term as General Inspector of Confinement Centres (Contrôleuse générale des lieux de privation de liberté, CGLPL) was coming to an end. The position remained vacant for three months. The president of the Republic recommended Dominique Simonnot, former court reporter for "Canard Enchaîné" and Parliament approved her nomination on 13 October.
When the second wave of the pandemic started, visits resumed but the strict health measures weighed heavily on visitors and their loved ones. The atmosphere was described as detrimental. Christmas time, an especially tough period for prisoners, was expected to be difficult: the receipt of food parcels was reduced; parent-child reunions, normally organised by some facilities, were cancelled. The number of prisoners began to rise again. This growth, which has been noticed since the start of the summer, shows that the decrease in the prison population was just temporary.
Homicide rate (per 100,000 inhabitants)