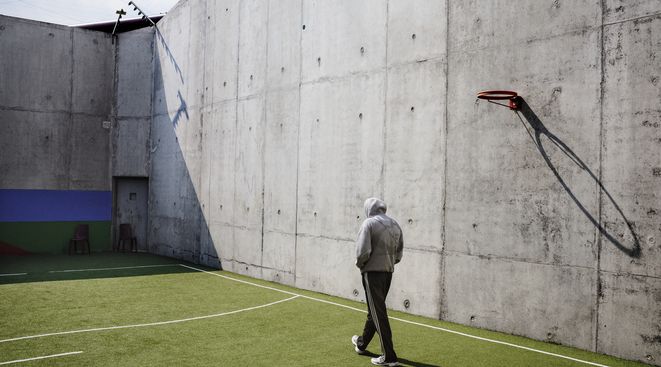 France
Capital city —

Paris
Incarceration rate (per 100,000 inhabit…

Homicide rate (per 100,000 inhabitants)

Name of authority in charge of the pris…

Total number of prisoners

i

06/05/2020

/ prison administration

Average length of imprisonment (in mont…

i

2020

/ Prison administration

Total number of prison facilities

i

01/01/2018

/ Prison adminsitration

An NPM has been established

Number and percentage of female prisone…

i

01/2020

/ Prison administration

i

01/2020

/ Prison administration

i

01/2020

/ Prison administration

Death penalty is abolished
+
Latest updates
Total number of prisoners
i
01/01/2020
/ Prison administration
Figures published by the prison authorities recorded a total of 62,260 inmates in November, which exceeds prison capacity by more than 7,600. Nearly 600 inmates sleep on mattresses on the floor.

Between 16 March and 26 April, the number of people in custody fell due to measures taken in light of the coronavirus pandemic. The director of penal administration reported a drop of more than 11,000 prisoners. He detailed the measures which have brought this about, notably house arrest at the end of a sentence, and granting a reduction of sentences in exceptional cases. Some observers also cited a slowdown in judicial activity and a low number of prisoners being taken into custody.
Variation in the number of prisoners
The prison population has increased again. On 1 October it reached 61,102, an increase of 2,400 in three months. Rates of occupation greatly exceed 100%, and vary considerably from one prison to another, eg. 176 % at Bordeaux-Gradignan prison, 188 % at Nîmes prison, and 213 % at Roche-Sur-Yon prison.

The director of penal administration reported that 'by 26 April, the prison population had fallen by 11,961 since 16 March'. This drop was due to lower number of prisoners going into custody and measures for managing prison sentences to stem the spread of coronavirus.
The prison service allows access to Internet
The Inspector General of Prisons delivered a recommendation to the Official Bulletin on 6 February 2020, advocating internet access in prison. When prisoners do not have contact with digital technology and the internet, this precludes them from exercising many of their rights. They cannot visit human rights or legal information websites, or indeed their own solicitors' websites in order to prepare their defence. The recommendation notes: 'there is no law allowing prisoners to be deprived of all access to the internet'.
Prison facilities are accessible by public transport
All newly constructed institutions are on the outskirts of cities or far from them. La Santé prison in Paris is an exception.
The creation of a bus route serving Fleury-Mérogis prison has been announced. This is the result of public mobilisation and a petition with more than 2000 signatures. The line was to be operational from 12 October, comprising five stops serving different sectors of the prison.

The bus stops near Fleury-Mérogis Prison in the department of Essonne have been suspended since the beginning of 2020. On 11 September, a petition was started by the relatives of prisoners to get the stops reinstated. They have questioned the actions of the local government authority Cœur d'Essonne and the transport operator Keolis Meyer: "Suspending these bus stops has made prisoners even more socially isolated: they were almost exclusively used by families of prisoners for visits, and also by organisations offering support to prisoners".
Number of deaths attributed to suicide
119 committed suicide in prison and 12 outside (hospital, permission to leave…)
i
2018
/ Prison administration
"On 21 August the justice minister launched an inspection mission to reinforce the prevention of suicide in prisons. This announcement followed the suicide by hanging on 2 August of a former maths teacher on remand in Baumettes prison (Marseille). The mission also aims to assess the progress made by the government's 2019-2022 programme relating to the health of prisoners.

In Roanne Prison, a 27 year-old prisoner died after lighting a fire in his cell in the segregation unit. Prison officers tried to intervene but the prisoner died of cardiac arrest. The initial investigation suggests suicide. The prisoner was showing signs of fragile mental health and was waiting to be transferred to a dedicated unit.

A man of 47 years has hanged himself in his cell in Lille-Sequedin prison. The emergency services arrived too late and were only able to register the death.

Each year a group of associations counts the number of deaths in custody and organises a tribute to those who have died in prison. This group does not mention in which prisons the deaths have occurred.
Cases of ill-treatments have been registered.
A guard at Ducos prison in Martinique has been given a four-month suspended sentence for having attacked some inmates. He has kept his job and has not incurred a criminal record.
The inmate who wishes to file a complaint must send a letter directly to either the public prosecutor for the place of detention, which is the recommended option, or to the closest gendarmerie or police station. The complaint must be submitted within a certain period, and it is best to send it as soon as possible. It may be sent in a sealed envelope.
The inmate can also speak to the administrative and judicial authorities – investigating judges, sentence enforcement judges, children's court judges, MPs, etc.
An article in the French newspaper Le Parisien reported that the Villepinte prison had been visited repeatedly by a sub-commission of Sdis, the local authority fire and rescue service (Service départemental de sécurité et de secours). Sdis noted that there was no response plan and considered the staff fire safety training insufficient. However, the inspection result was positive.
In 2017, Sdis had identified up to 300 electrical system faults.
Inmates are allowed to make complaints against the prison administration, especially for abuse of power or if they are victims of a criminal offence. Like any citizen, inmates may file a complaint before the criminal courts. They can also refer to various regulatory agencies that are capable of carrying out investigations outside of the justice system.
Following the death of a prisoner at Villepinte prison due to a fire in his cell, a fellow prisoner's lawyers, upheld by the Bar Council in the town of Bobigny, filed a petition. They called into question the prison's fire safety standards and highlighted 'significant failures'. The petition was rejected.

In a judgement delivered on 30 January 2020, the European Court of Human Rights held that "preventive remedies in place – an urgent application to protect a fundamental freedom and an urgent application for appropriate measures – were ineffective in practice". It considered that prisoners did not have the adequate means to bring about the "full and immediate cessation" of breaches of fundamental rights. The Court stated that the powers of administrative judges to make orders were "limited in scope".
Number of deaths in custody
i
2013
/ Prison administration
In Villepinte Prison, a 20 year-old prisoner being held in the segregation unit set fire to his mattress. The smoke reached other floors of the prison and other prisoners heard him call for help. The intercom was not working and although an alarm went off, it did not sound in the right building. Prisoners in neighbouring cells said that they had been banging at their door for 'almost an hour', had inhaled 'black and toxic' smoke and 'could smell burnt flesh'. The prisoner burned to death. A complaint was lodged and 11 prisoners signed a collective document entitled 'We do not Want to Die in Prison'. An inquest has been opened.

One inmate died as a result of Covid-19. Aged 73, he was held at Fresnes.
Prisoners are living in squalid conditions in Perpignan Prison, with more than 60 prisoners sleeping on mattresses on the floor. The French division of the International Observatory on Prisons (Observatoire international des prisons, OIP) said that it had received 'multiple' reports on this prison. "As well as being overcrowded, it's clear that there is serious dilapidation in the prison such as mould and mildew in the showers, exceptionally filthy cells, cells infested with bed bugs, etc." The arrival of a heatwave has contributed to heightened tensions in the prison.
Prison density
i
01/01/2020
/ Prison administration
The drop in prisoner numbers is considered to be insufficient. The national secretary of the Union of Magistrates notes that detention centres are still recording occupancy rates in excess of 100%: 'there are still prisons where inmates sleep on the floor, two or three to a cell'.

"In the space of a few weeks, health measures have led to a reduction in the prison population, with 10,000 fewer prisoners. This unprecedented drop in numbers is regarded as insufficient by certain observers . On 20 April 2020, the National Union of Prison Governors (SNDP-CFDT) sent an open letter to the president of the Republic, stating that "it will no longer be possible to claim that one prisoner per cell is unachievable".
Prisoners have access to a legal aid centre
On 1 January 2017 there were legal assistance advice centres in 158 prisons. Their staff is qualified to intervene on all kinds of legal issues, with the exception of those relating to the prisoner's sentence itself. The structure varies enormously, both in terms of organisation (available once a day, once a week, or once a month) and in terms of independence. Prisoners and their family members and friends may call a number to obtain information on legal and social issues. Calls are free, anonymous and confidential, and can be made from all prisons (99#110) and from outside (01 43 72 98 41). The platform is run by the CASP/ARAPEJ organisation and is open Monday to Friday, from 9 a.m. to 5 p.m.
The Inspector General of Prisons delivered a recommendation to the Official Bulletin on 6 February 2020, advocating internet access in prison. When prisoners do not have contact with digital technology and the internet, this precludes them from exercising many of their rights. They cannot visit human rights or legal information websites, or indeed their own solicitors' websites in order to prepare their defence. The recommendation notes: 'there is no law allowing prisoners to be deprived of all access to the internet'.
The country has been condemned by an international court for its prison overcrowding
The European Court of Human Rights condemned France 17 times due to the conditions of detention, which violated Article 3 of the European Convention for the Prevention of Torture, which prohibits torture and inhuman or degrading treatment.
On 30 January 2020, in a judgement considered 'historic' by observers, the European Court of Human Rights ruled against France. The Court decided that Article 3 had been violated (prohibition of inhuman or degrading treatment) due to poor conditions of detention. The Court ordered that the French authorities "must put an end to overcrowding in prisons and to degrading conditions of detention" (See press release). It noted that there is a "structural problem" and made recommendations on how to remedy it.
Between 2015 and 2018, a number of appeals were made by 32 prisoners held in the following prisons: Baie-Mahault (Guadeloupe), Ducos (Martinique), Fresnes, Nice, Nîmes, and Fa'aa Nuutania (French Polynesia). The European Court made a joint judgement "to broaden the scope" and ordered France to compensate the plaintiffs for damage suffered. The penalty is in excess of €500,000.