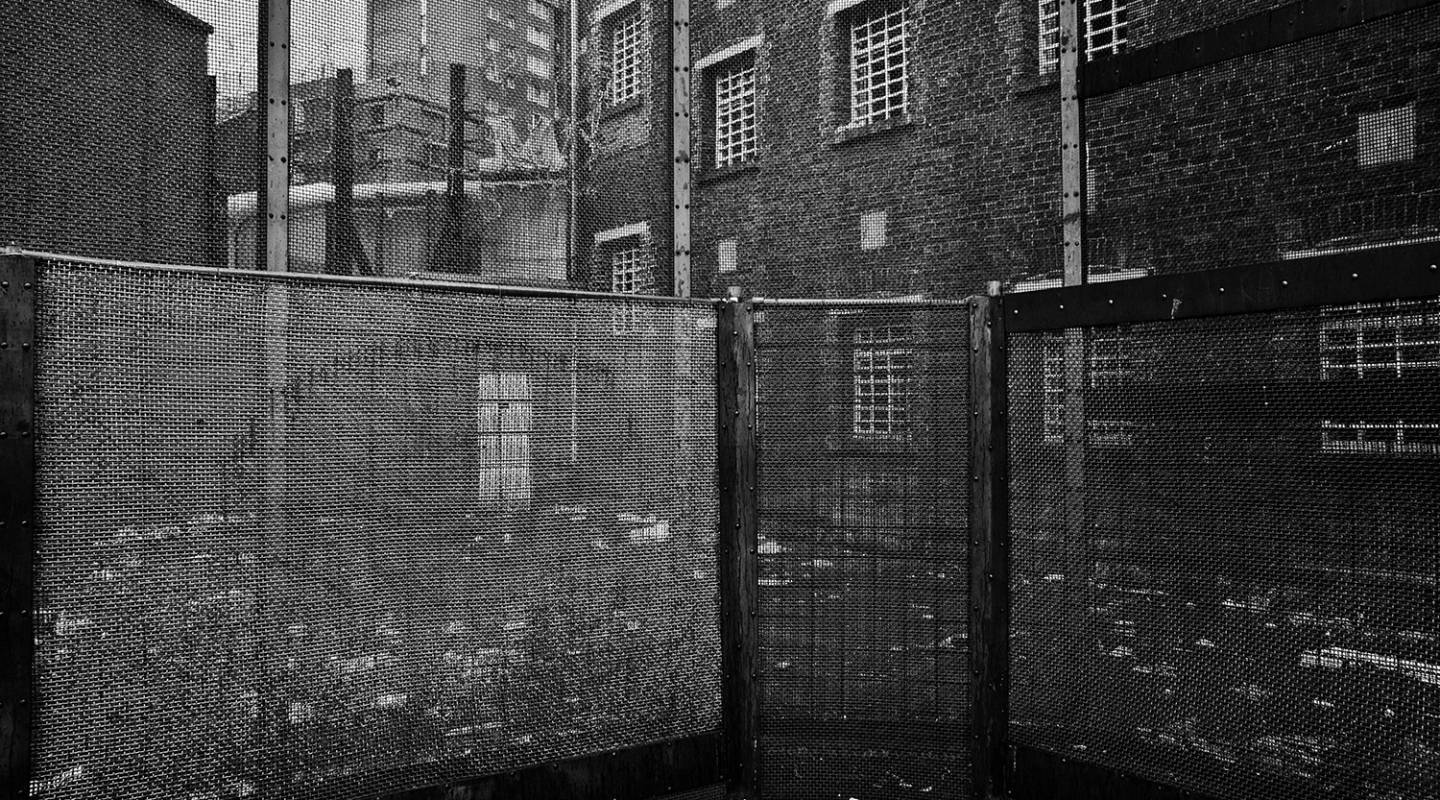 Back to map
Belgium
Capital city —

Brussels
Incarceration rate (per 100,000 inhabit…

i

2017

/ Federal Public Service Justice

Homicide rate (per 100,000 inhabitants)

Name of authority in charge of the pris…

Total number of prisoners

i

2017

/ Federal Public Service Justice

i

2017

/ Federal Public Service Justice

Total number of prison facilities

An NPM has been established

Number and percentage of female prisone…

i

2017

/ Federal Public Service Justice

i

2017

/ Federal Public Service Justice

Death penalty is abolished
+
Living conditions
Accommodation
The law establishes a minimum standard for living space per prisoner
The measurements of standard individual cells are:
10 m² for one prisoner
12 m² for two prisoners
15 m² for three prisoners
25 m² for four prisoners
38 m² for five or six prisoners
The minimal prisoner-meter ratio is not respected. The situation can vary even within the same institution.
Prisoners are accommodated in single cells
The principle of individual cells is not respected. Detained individuals, particularly those in pre-trial imprisonment, are often kept two or three to a 9 m2 cell.
Sentence homes (for convicts) respect, in principle, individual confinement.
This results in difficulties in the management of each prisoner's personal belongings. This modality gives time to detainees and space to the persons concerned but remains incompatible with training or employment. This measure does not exist in the law. There is a risk of a method of execution of the sentence, granted by the Minister, without parliamentary or judicial control.
Belgium has been reprimanded on many occasions for holding multiple prisoners in one area, reducing the minimal individual space by 4 m2 (See Country Profile 2016).

On the 16 May 2017, the European Court of Human Rights (ECHR) found Belgium guilty in the case of Sylla and Nollomont v. Belgium. The Court determined that Belgium violated article 3 due to a lack of personal space (less than 3 m2 for each prisoner) as well as not providing activities outside of the cells. In June 2017, the Ministry of Justice began a cell sharing system as a new way to reduce the prison population. Every other week, two prisoners alternately occupy the same cell. The prisoner not in the cell takes prison leave. Around 3,000 prisoners are involved in this system.
Prisoners sleep on
a bed
a bunk bed
a mattress on the floor
It is common, especially in Gand prison, for prisoners to sleep on mattresses on the floor. Cell furniture, such as tables and chairs, is not adjusted for the number of people in the cell.
All the prisoners are provided with bedding
In the newest institutions of Marche, Leuze, and Beveren, the windows do not open. Therefore, no natural ventilation is possible. In other institutions, windows open either fully or as wide as a few centimetres.
Prisoners can smoke
in their cell/dormitory
in communal areas
The administration tries not to mix smoker and non-smoker prisoners, however, it does happen.
Hygiene
Prisoners have access to water
in their cell and outside of their cell
Showers are located in the cells/dormitories
Inmates in the poorest quality prisons (Forest, Saint-Gilles, Berkendael, Tournai, Marneffe, and Jamioulx) often complain about difficulty accessing the showers. Inmates are granted two showers a week, even during heat waves. Newer prisons such as Marche, Leuze, and Beveren are equipped with shower access at designated times throughout the day.
Types of sanitary facilities
regulat toilets
sanitary buckets
Some cells, notably in Forest and Anvers prisons, are not equipped with toilets and water supply. Prisoners use a hygiene bucket to take care of their needs.
Sanitary facilities are clean, adequate and accessible
Hygiene depends in part on the level of the institutions' deterioration. Roaches and rats are present in the kitchens as well as the cells in the older prisons (Forest, Lantin, Saint-Gilles, Anvers). Cases of scabies have been reported. In many prisons, especially at Merkplas, mould has infested the showers.
The prison service provides personal hygiene products free of charge
"Entry packs" usually contain one tube of toothpaste, one toothbrush, one bar of soap, shaving gel, and one toilet paper roll. Further hygiene products are then sold in the commissary, sometimes even the toilet paper.
Beddings are refreshed
Bedding is usually dirty. Mattresses, pillows, and covers at Termonde are washed once a year. Sheets are changed once a month.
Prisoners have access to a washroom to do their laundry.
In their respective reports, surveillance commissions deplore the poor hygiene conditions, the deterioration of the buildings, the state of the furniture, and the poor sanitation fixtures that contribute to dermatitis, respiratory problems, skin infections, etc.
Some facilities are poorly maintained. The state of the prisons in Forest and Antwerp is regularly denounced. To the point that the chairman of the supervisory commission calls for the closure of the first one: "There are rats, mice, prisoners have scabies, some live in nine square meters with one bucket for three people, staying there 23 hours a day. This is intolerable! ».
Food
Daily cost of meals per prisoner
Food services are managed by
Generally, the prisoners themselves prepare meals for that day with the supervision of prison personnel.
In the last three prisons built through private-public partnership (Leuze-en-Hainaut,Beverenet, and Marche-en-Famenne) a private company provides food production by training prisoners to work in the restaurant industry.
The prison service is required to meet nutritional standards regarding quality and quantity
no
The quality and quantity of food varies from one prison to the next.
The prison service provides food that respects special dietary needs
Medical diets and cultural or religious practices are taken into consideration during mealtimes. It is, however, not always respected. Halal meat is not served. It is usually replaced with cheese, always the same kind, served week after week to Muslim prisoners.
Diabetic prisoners frequently have to insist on receiving a modified diet.
A vegetarian diet is temporarily available at Gand prison. Generally, the only alternative for vegetarian prisoners is replacing meat with cheese.
yes

In 2017, signs placed on Huy's prison cell doors showed the occupants' diet. They included the words "Muslim" and "normal."
Prisoners eat their meals in
With the exception of a community meal, like in the women's prison in Berkendael, prisoners eat meals in their cells.
Prisoners can buy food products
Prisoners can buy food off a list provided by the prison. Inmates receive a list of commissary goods when they first arrive. Many investigations show that prices are 10 to 15% higher than market price. Prices are also increased by 10% due to an imposed social solidarity contribution. This is a reserve fund for prisoners without any financial resources. The fund's beneficiaries usually have to wait a few weeks before receiving aid.
Prisoners are allowed to cook in their cells or in a shared space
Prisoners can cook in their cells in institutions that allow a hotplate or provide space. When hotplates are not allowed, creating a makeshift heating system leaves a prisoner liable to disciplinary punishment of up to 15 days in isolation.
Part of the prisoner's food is produced by the prison
At the Saint-Gilles prison, prisoners can purchase fresh produce (fruits, vegetables, eggs). However, prisoners are not able to cook the produce due to a lack of hot plates. Some prisoners, with access to a percolator, can cook eggs on the heating surface. The process is forbidden.