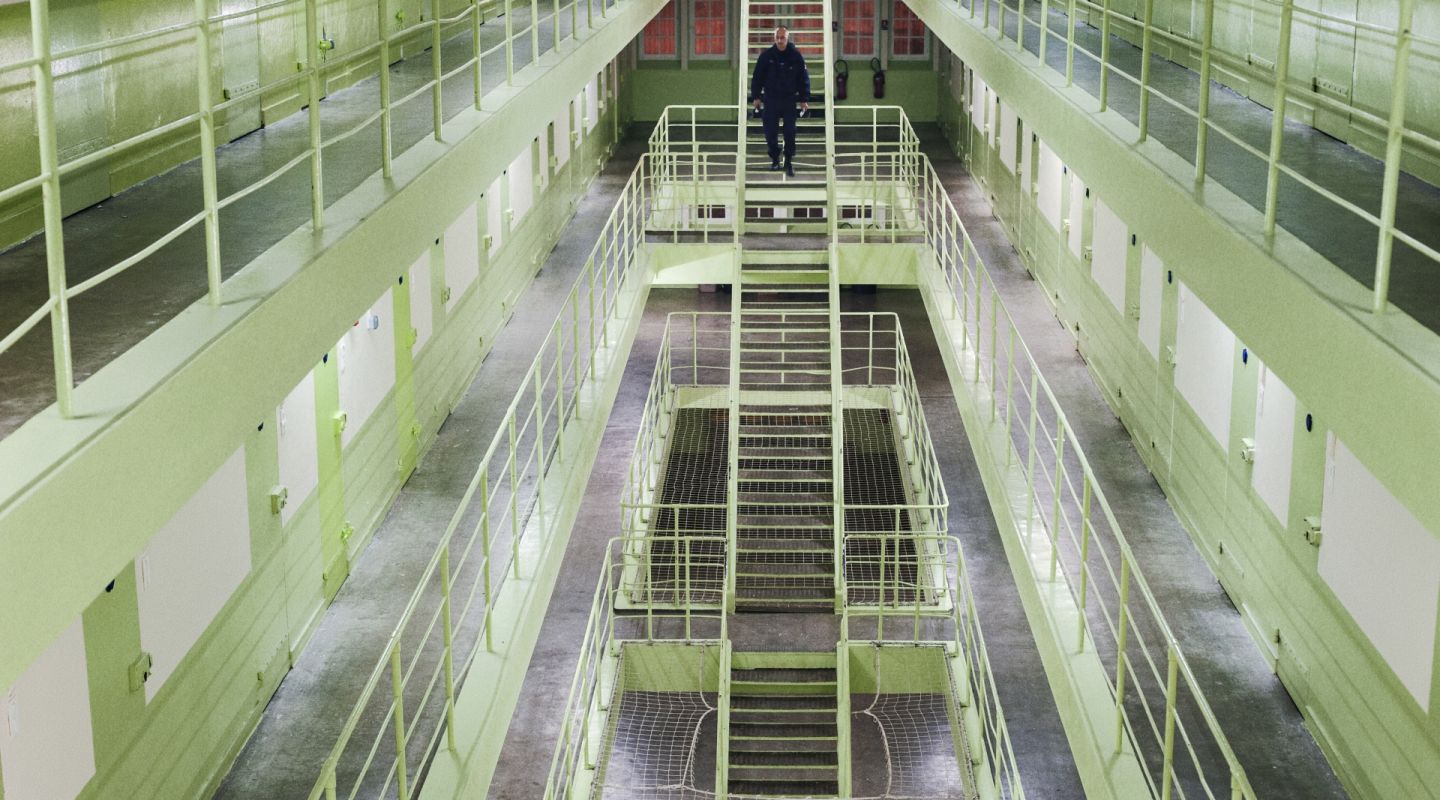 Back to map
France
Capital city —

Paris
Incarceration rate (per 100,000 inhabit…

Homicide rate (per 100,000 inhabitants)

Name of authority in charge of the pris…

Total number of prisoners

i

01/01/2018

/ Prison administration

Average length of imprisonment (in mont…

Total number of prison facilities

i

01/01/2018

/ Prison adminsitration

An NPM has been established

Number and percentage of female prisone…

i

2018

/ Prison administration

i

01/2018

/ Prison administration

Death penalty is abolished
+
Overview
Prison population
Incarceration rate (per 100,000 inhabitants)
The authorities publish official statistics on prison population
The prison service has a computerised record keeping system
Total number of prisoners
i
01/01/2018
/ Prison administration
Number of admissions
i
01/01/2018
/ Prison administration
Number of releases
i
01/01/2018
/ Prison administration
Average length of imprisonment (in months)
Overcrowding is an issue for specific types of prison facilities
This overpopulation is mainly seen in detention centres, where untried prisoners and people condemned to short sentences are held. In theory, these two populations are separated. This overpopulation also affects overseas facilities.
See the map
The country has been condemned by an international court for its prison overcrowding
A supervisory body has issued a decision on prison overcrowding
In 2017, the European Committee for the Prevention of Torture published the following report. "The situation was of particular concern at Fresnes and Nîmes prisons, where the overcrowding and the lack of activities were compounded by serious problems with heating, damp, and infestations". The CPT called on the French authorities to take urgent measures to address these problems, which could be considered as inhuman and degrading treatment.
Organisation
Name of authority in charge of the prison service
Budget of the prison service
dollars - 2,7 billion euros
The prison service outsources the management of the facilities to private companies, either partially or fully
The private sector is responsible for the day-to-day operations in 58 prisons: food services, accommodations, training, work, maintenance. For the past several years it has also been in charge of family visits. The penitentiary administration is responsible for the management, the surveillance, the registry (follow-up of imprisonment), probation and re-integration.
Recent constructions were carried out by public private partnerships (PPP). PPPs may seem to be economically advantageous in terms of public financing in the short term, yet they are regularly questioned. In December 2017, the Court of Auditors presented a report (in French) which was highly critical of resorting to PPPs, saying that " it would be wise in the future not to resort to PPPs for building prison facilities" and that "the additional costs for the modification work conducted during the construction and the rigidity of the PPPs, which slows down the adaptations needed by the prison public service, are the kind of thing that makes you question the relevance of resorting to these contracts".
Prison facilities
There are three main types of detention centres:
remand prisons (maisons d'arrêt (MA)) for people waiting for their court date, or for those with short sentences (up to two years);
detention centres (centres de détention (CD)) for people serving medium and long sentences, with a prison regime focused on preparation for release;
maximum security prisons (maisons centrales (MC)), for long-term sentences with a stricter prison regime.
Day-leave centres (centres de semi-libertés (CSL)) and the Adjusted Sentence Centres (centres pour peines aménagées (CPA) are detention centres specifically focused on release. They are for those whose sentences have been adjusted.
The penitentiary centres (centres pénitentaire, CP) include at least two of the three categories of the previously mentioned facilities (MA, CD, MC, CSL and/or CPA).
Total number of prison facilities
i
01/01/2018
/ Prison adminsitration
Total official capacity of the prison facilities
i
01/2019
/ Prison administration
Prison facilities are accessible by public transport
The number of penitentiary centres is increasing: 55 in January 2018. There were 54 in January 2017 and 50 in January 2016.
The total "operational" capacity (number of places available in prisons) is increasing regularly:
57,841 on 01/01/2015 (+0.6 % more than 2014)
58,561 on 01/01/2016 (+1.2 % more than 2015)
58,681 on 01/01/2017 (+0.2% more than 2016)
59,765 on 01/01/2018 (+1,8% more than 2017)
The White Paper Commission on Prison Premises submitted its report to the Minister of Justice in April 2017. It addresses mainly the construction of new prisons, staff recruitment and training and the integration of these facilities into their territory.
Staff
Number of prison guards (FTE)
i
01/01/2018
/ Prison administration
Number of socio-educational workers (FTE)
i
01/2017
/ Prison administration
The prison staff is represented by (a) union(s)
The screening of guards is inadequate due to new staffing needs and little consideration for the trade. Courses at the National School of Penitentiary Administration (ENAP) are six months combining work and training (used to be 8 months). The candidate, who must be at least 19 years old, must have a college diploma (Certificate of General Education) or an equivalent and recognized diploma.
The total number of prison personnel was 40,738 on 1 January 2018, among whom there were 28,561 and 4,112 prison intake and probation officers (services pénitentiaires d'insertion et de probation (SPIP)). SPIP officers monitor those entering the judicial system, assist with legal decisions (sentence adjustments) and with preparing for release. They are also responsible for cultural activities in the facilities.
Other personnel on 1 January 2018 were:
542 managers
5,309 administrative staff
701 technical staff
1,513 others (contractors, chaplains…)