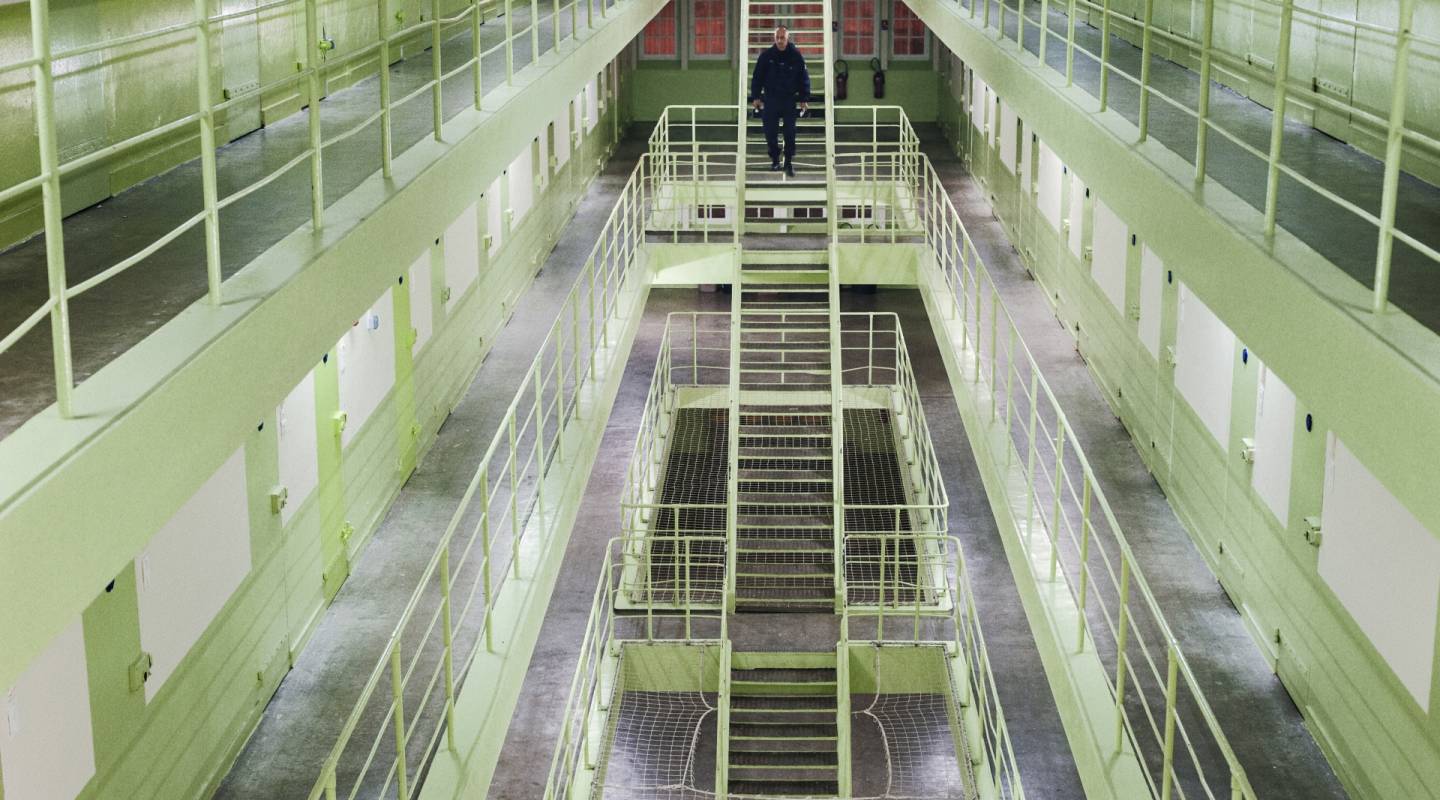 Back to map
France
Capital city —

Paris
Incarceration rate (per 100,000 inhabit…

Homicide rate (per 100,000 inhabitants)

Name of authority in charge of the pris…

Total number of prisoners

i

01/01/2018

/ Prison administration

Average length of imprisonment (in mont…

Total number of prison facilities

i

01/01/2018

/ Prison adminsitration

An NPM has been established

Number and percentage of female prisone…

i

2018

/ Prison administration

i

01/2018

/ Prison administration

Death penalty is abolished
+
Living conditions
Accommodation
The law establishes a minimum standard for living space per prisoner
Prisoners are accommodated in single cells
The law ensures a right to individual cells since 1875, re-affirmed in 2000. This right is, however, not respected. Moratoriums follow one another seeking an impossible balance between the number of prisoners and the number of places.
There may be three people placed in a single cell, and four in a double cell. Judges, parliamentarians and prison administrators still tolerate the placement of several people in one cell.
Prisoners sleep on
a bed or a mattress on the floor
All the prisoners are provided with bedding
The cells/dormitories are provided with electric lighting
The cells/dormitories are equipped with heating and/or air conditioning
The cells are usually equipped with one bed, a chair and a shelving unit or a wardrobe per person. A small shelf is shared by all. Those who share cells deplore not having cupboards they can lock. Everyone complains about the gratings that obstruct the windows. There are frequent ventilation and lighting problems in the cells of old facilities.
Hygiene
Prisoners have access to water
Cells have sinks and toilets (with toilets now mostly separated from the rest of the cell).
Showers are located in the cells/dormitories
Prisoners can use the showers, when not located in their own cell, at least three times a week.
Types of sanitary facilities
Sanitary facilities are clean, adequate and accessible
The prison service provides personal hygiene products free of charge
• for new arrivals
• for poor prisoners
A kit of personal hygiene products (toilet paper, toothpaste, soap, etc.) is handed out upon arrival, but it doesn't cover all the needs (such as feminine hygiene products) and is only renewable for destitute prisoners.
The prison service provides cleaning products free of charge
• for new arrivals
• for poor prisoners
Inmates are responsible for looking after their cells. The cleaning products provided by the administration do not always meet their needs. The administration only covers cleaning of the bedding. Personal laundry is done by inmates or by loved ones who can bring laundry when they visit.
The maintenance kit is handed out once a month at the Cherbourg jail consisting of: a cleaning sponge, 300 ml dish soap and 300 ml multi-surface cleaner. A garbage bag is handed out daily and garbage is picked up each day without sorting garbage.
Hygiene conditions in the new facilities are usually acceptable. The older facilities do not meet the minimum standards despite their renovations. There is a lack of maintenance; there are pests, and the showers are deteriorated and dirty.
Food
Drinking water is free and available in all areas of the facilities
Number of meals per day
The administration provides three meals a day, at the usual times.
Daily cost of meals per prisoner
Food services are managed by
the prison administration and private food services
The prison service is required to meet nutritional standards regarding quality and quantity
yes
The quality and quantity are often insufficient.
The prison service provides food that respects special dietary needs
In theory, consideration is given to cultural and religious practices and special diets. But many think it is insufficient. The lack of Halal products in the menus that are offered is the reason for so many vegetarian menus.
Prisoners eat their meals in
Prisoners can buy food products
yes
It is possible to buy (canteen) food products.
Prisoners can have access to a refrigerator
It is possible to rent a refrigerator.
Prisoners are allowed to cook in their cells or in a shared space
In older facilities, inmates can also cook in their cells with makeshift utensils; newer prisons have hotplates.
Prisoners are allowed to receive food parcels
Part of the prisoner's food is produced by the prison