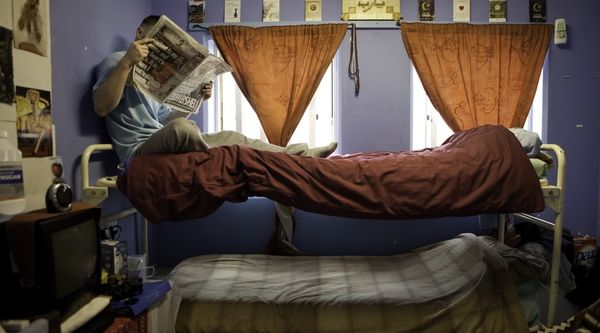 Back to map
United Kingdom: England & Wales
Capital city —

London
Incarceration rate (per 100,000 inhabit…

Homicide rate (per 100,000 inhabitants)

Name of authority in charge of the pris…

Total number of prisoners

i

29/10/2021

/ UK Parliament

Average length of imprisonment (in mont…

Total number of prison facilities

An NPM has been established

Number and percentage of female prisone…

Death penalty is abolished
+
Overview
Prison population
Incarceration rate (per 100,000 inhabitants)
The authorities publish official statistics on prison population
The prison service has a computerised record keeping system
Total number of prisoners
Variation in the number of prisoners
compared to the previous year
Number of people serving non-custodial sentences
119,334 persons aged 18 or over were supervised in the community in 2017 under Community order (59%) or Suspended Sentence Orders (41%). Men represent 85% of the offenders in the community. Community or Suspended Sentences were given mostly for men and women aged 30 to 39 (32% of females and 28% of males).1
Average length of imprisonment (in months)
The average length of detention is 18,9 months when including the "non-criminal population" 1 (760 prisoners on 31 March 2020).
---
The Ministry of Justice defines "non-criminal prisoner" as "a civil non-criminal prisoner is someone who is in prison because of a non-criminal matter, for example, non-payment of council tax or contempt of court". ↩
68 prison establishments (58%) were overcrowded in October 2018, according to the Ministry of Justice.The Howard League developed a weekly updated online tool presenting the most overcrowded prisons in England and Wales.
The number of prisoners according to the length of their sentence was, on the 31 December 2017, as follows 1:
less than one month: 218 (0.3%)
between one and three months: 1,076 (1.4%)
between three and six months: 2,568 (3.4%)
between six months and a year: 2,590 (3.5%)
between one and three years: 14,166 (18.9%)
between three and five years: 9,200 (12.3%)
between five and ten years: 14,774 (19.8%)
between 10 and 20  years: 7,927 (10.6%)
20  years or more: 713 (1%)
life sentence: 7,247 (9.7%)
other: 13,567 (18.1%)
Overcrowding is an issue for specific types of prison facilities
Overpopulation is concentrated in local and Category C prisons. Certain women's prisons are also experiencing overpopulation (due to a rise in the number of women arrested and the closure of Holloway Prison in July 2016).
The prison population has risen over the last 30 years. Notably, it has passed from 64,602 prisoners in 2000 to 82,773 in 2018, peaking at 86,634 in 2012. Nicola Padfield gives two reasons for this rise: sentences are more severe; and the possibility of sentencing adjustments are reduced.1
---
Nicola Padfield & Nancy Loucks, "Le système pénitentiaire anglais et gallois" (The English and Welsh prison system), in J. Céré and C. E. Japiassú (éds.), Les systèmes pénitentiaires dans le monde (Prison systems in the world), 2018, p. 27-44. ↩
Prison facilities
The men, women and children imprisoned in England and Wales are incarcerated in different units.
There are four main prison categories for men:
Trainer prisons: these house category B and C prisoners (the majority of prisoners). These prisons provide facilitated access to professional training and activities. There are 43 category C trainer prisons and 8 that are category B. The category C trainer prisons are at times resettlement prisons. These pool prisoners condemned to sentences of between one and four years. Prisoners are accompanied, during the final three months, by a member of staff in charge of preparations for leaving prison (resettlement providers).
Local prisons: these house remand prisoners, people sentenced to short jail terms, and those waiting to be transferred to a different facility. There are 29 local prisons.
Open institutions: these house category D prisoners (low risk). Some prisoners are at the end of their sentence. They have carried out the majority of their sentences in the highest security prisons. There are ten of these open institutions.
The eight high security prisons are split into two categories:

Core locals hold the same categories of prisoners as those in local prisons, under a stricter security regime.
Dispersals hold category A prisoners (high risk). Their aim is to spread the prisoners considered most dangerous throughout the entire territory.
There are 12 facilities for women in England and Wales. Two of them, Askham Grange and East Sutton Park, are open institutions.
Minors and young adults are gathered in three types of prisons:
Young Offender Institutions, YOI
Secure Training Centres, STC
Secure Children's Homes, SCH.1
Please refer to the Minors section for more information.
Total number of prison facilities
Total official capacity of the prison facilities
Certified National Accomodation1 in use.
---
Certified National Accommodation (CNA), or uncrowded capacity, is the Prison Service's own measure of accommodation. CNA represents the good, decent standard of accommodation that the Service aspires to provide all prisoners. Details can be found in "PSI 17/2012". ↩
A new prison facility is being built in Wellingborough, in the Northamptonshire region. Contractors were happy to say they were able to bring it to fruition in just 45 weeks. With its 1,680 prison cells, it is presented as modern with "the latest technology", and equipment which should "enhance security and rehabilitation". The facility, which is expected to open in 2022, will replace the former Wellingborough prison, which closed in 2012. A £253 million contract was awarded by the Ministry of Justice for construction and G4S will run the prison, creating 700 jobs.
Variation in the capacity of the prison facilities
The total capacity of the prison system, as of 31 December 2017, is 75,545.
A 'mega-prison' at Full Sutton was in the final phase of construction. The future prison had been criticised. More than 50 letters of complaints were sent to the builder. The opponents believed that the construction was incompatible with the local sewer system and was creating excessive light and sound pollution. Residents were worried about the repercussions on the reputation of their town as well as their safety.

Four so-called "green" prisons were being built in the United Kingdom with recycled materials and being equipped with technologies aimed at reducing their ecological footprint. Green spaces were presented as key elements in the construction projects: "Our evidence shows clear and demonstrable benefits from the presence of green space for prisoners in all categories of prison".
Andrew Neilson, the campaign director for the Howard League for Penal Reform said: "Everyone should do their bit to protect the world we live in, but it would be far better for the environment if the prisons were not built at all". He refer to these new green prisons as "a twist from the Ministry of Justice".

The ISG, Kier, Laing O'Rourke and Wates construction firms would be coming together under the name of "Alliance 4 New Prisons" to build four prisons. The project was an initiative of the Ministry of Justice and would benefit from a budget of four billion pounds sterling ($5.53 billion). Each prison would have the capacity to hold between 1,400 and 1,800 prisoners. The goal is to increase the capacity of the prison estate by 18,000.
The size of facilities varies significantly. The smallest, East Sutton Park, has 101 spaces. It consolidates an open unit for women and a unit for young offenders. The largest, Parc at Bridgend (Wales), has 1,699 spaces. It is managed by the private group G4S. It consolidates a category B unit for men and a young offenders unit.1
Prison facilities are accessible by public transport
About a third of the prison estate was built in the Victorian era (the second half of the 19th Century).These facilities are situated in city centres. They are mainly local prisons.

Almost a third of the prison estate is composed of buildings constructed in the mid-20th Century (the years 1940 to 1970). They are often old military bases or internment camps that were used during (or after) the Second World War. They are situated outside the cities.

The prisons built at the end of the 20th Century and the beginning of the 21st Century, approximately the remaining third, are generally situated outside the cities.1
Staff
Number of prison guards (FTE)
Workforce statistics from HMPPS cover staff who are employed by HMPPS. They are all civil servants. The official data provided by HMPPS does not include other workers within HMPPS who are employed by third parties (e.g. private sector, CRCs). This number also excludes voluntary workers, HMPPS staff on loan, on secondment out, and those on a career break.1
Variation in the number of prison guard positions
The prison staff is represented by (a) union(s)
Some prison officers took legal action against the government. The officers claimed that they caught COVID-19 on the job and were seeking compensation. The Prison Officers Association (POA) affirmed their support for legal action against the government when the employer's negligence caused an increased risk of infection.
Prison wardens follow a 12-week training programme. Ten of these weeks are devoted to initial training (Prison Officer Entry Level Training, POELT),
This training includes:
the care of prisoners (first aid, food, hygiene, health and safety, regulations, etc.)
search and security procedures
de-escalation techniques (conflict management)
The first and last weeks of training are undertaken in prison. Training continues after the position has been taken, during the year that follows. Individuals assigned to high security prisons sometimes undergo specific two-week training.
The salary of prison officers is between £22,000 and £30,000 a year for 39-hour weeks. It takes into account cost of living where the work takes place. National Living Wage is about £15,880.
The staff have:
Twenty-five days of annual leave (which rises to 30 after 10 years of service)
paid leave for public holidays and one additional day off
Public Service Pension Plan (up to 20% of their salary)
service vouchers for childcare
Cycle to Work programme (staff are given a bicycle and equipment to get to their place of work)
travel loans…1