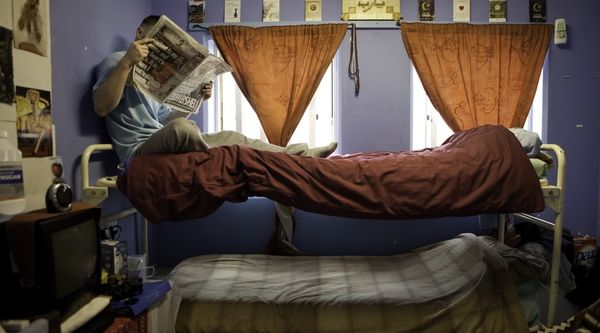 Back to map
United Kingdom: England & Wales
Capital city —

London
Incarceration rate (per 100,000 inhabit…

Homicide rate (per 100,000 inhabitants)

Name of authority in charge of the pris…

Total number of prisoners

i

29/10/2021

/ UK Parliament

Average length of imprisonment (in mont…

Total number of prison facilities

An NPM has been established

Number and percentage of female prisone…

Death penalty is abolished
+
Health
Organisation of health care
Ministry in charge
Department of Health and Social Care
The National Health Service (NHS), a non-governmental public body, is responsible in England for the provision of care units in prisons. Local Health Boards (LHB) are responsible in Wales for the provision of care units in public prisons (including detoxification).
Every prison facility has a health care unit
Number of medical staff (FTE)
The National Health Service provides the following services:
general medicine
dentistry
nursing care
psychological care
specialist education
withdrawal services
optometry
chiropody
pharmacy and drug management
stopping smoking 1
Medical teams vary from prison to prison. Most medical teams are composed of:
nursing staff (24 hours a day or during the day)
general practitioners (full-time or part-time)
mental health professionals (full-time or part-time)
addiction professionals (in most institutions)
Permanent specialists can be found in facilities according to specific needs.
Hospitals do not have dedicated units for prisoners. Two prison officers accompany the patient to hospital and monitor them.
Access to health care
A medical examination is performed upon admission
All prisoners are received by a member of the medical team when they arrive at their ward. The health professionals question them about their medical background, treatment, addictions and psychological state. 1 A second medical assessment, carried out by another professional, is mandatory within seven days of admission. 2 This second examination is usually an opportunity, in women's facilities, to address issues of pregnancy, parental responsibility, domestic violence, sexual violence and sex work. 3
---
Department of Justice, PSI 07/2015 on the first days in prison, p. 8. ↩

HM Inspectorate of Prisons, Expectations: Criteria for assessing the treatment of and conditions for men in prisons, criteria for assessing treatment needs for male prisoners , 2017, p. 31. ↩

Michael Spurr, "Women in prison in England and Wales", in Piet Hein van Kempen and Maartje Krabbe (éds.), Women in Prison: The Bangkok Rules and Beyond, Intersentia, 2017. ↩
A medical file is opened upon admission
SystmOne is the hospital information system used in all English prisons.1
Data cannot be disclosed without patient consent, except:
legal obligation (court order, legal prescription)
existence of an overriding public interest (to protect a third party from serious harm…)
other legal reason
Patient consent is not required if the data is anonymous.2
Prisoners can access health care units after
written request
oral request
The process depends on the facility. The presence of a telephone in the cell allows an oral request to be made.
Medical examinations are carried out on a confidential basis
Prison staff attend medical examinations when they consider the situation to be at risk.
Continuity of care is ensured during incarceration. All 118 prisons use the same SystmOne software1. Professionals are required to "maintain, through the hospital information system, an adequate and complete medical record for each prisoner. If necessary, health professionals may share information with services outside the institution: rehabilitation services, community service, probation services, social services…" 2
Some treatments cannot be done inside the facility. The prisoner can access these in three ways:
a specialist is invited to examine the patient
the patient is transferred to another facility
the patient is taken to the hospital 1
The Care Quality Commission notes in its annual report 2017-2018 that " care provided is of lower quality: poor medical environment, partnerships and services not adapted to people's needs…. The lack of prison staff may also limit prisoners' access to the care and treatment they need". 2.
Hospitalisation is subject to the opinion of the medical team. Admission must be made within 14 days of their decision.
Physical health care
Patients are guaranteed access to all types of treatment. For some patients, registration on a waiting list is necessary. Their quality must be equivalent to that offered outside.
Measures to prevent epidemic or communicable diseases must be implemented. They must be comparable to measures taken externally.
A report by SAGE (Scientific Advisory Group for Emergencies) indicated that even if the prevalence of the virus decreased in the general population, prisons would still be exposed to a greater risk of infections and might act as "a potential reservoir and amplifier of infection for the community". A University College London (UCL) study pointed out that the mortality rate of incarcerated people was three times higher than that of the general population. Public health experts recommended they be given priority for vaccinations. Universal" vaccination for prisoners and prison staff was thus recommended to mitigate the risk of spreading the COVID-19 variant outside of prison.

i

23/04/2021

/ The Guardian

i

18/02/2021

/ Staffordshire Live

Approximately 594 prison staff were interviewed about compliance with and the effectiveness of COVID-19 measures. About 42% said that their colleagues complied 'often' and 50% 'sometimes' or 'never'. Regarding their effectiveness, 26% said they were 'very good' or 'good', 38% 'acceptable' and 35% 'bad' or 'very bad'. Of those surveyed, 79% of male staff and 86% of female staff felt that their mental and physical health had deteriorated during the pandemic.

A study conducted by EP:IC Consultants of 800 prisoners showed that 20% of prisoners had declined vaccination ─twice as high as in the general population. Among the reasons for turning down the vaccine, prisoners mentioned the lack of information about its side effects and an overall distrust of authorities.

The vaccination of prisoners began in England after having already been rolled out in Wales. Vaccination mainly prioritised the most vulnerable prisoners. The vaccination campaign was expected to be carried out according to the same programme planned for the outside.

The government announced that all adult prisoners in England should have received their first dose of the COVID-19 vaccine by 19 July. Dr Eamonn O'Moore, national lead for health and justice at Public Health England (PHE), said 38% of 73,000 prisoners had received their first dose by 11 June.

Preston prison experienced a new surge in COVID-19 cases in April. One prisoner claimed that, within a week, 58 cases were reported in one of the prison wings. Infected prisoners were only allowed to go out for 15 minutes a day, just enough time to take a shower. The others were allowed 90 minutes outside their cell to keep infection rates down as much as possible.
According to the Howard League, "the need for risk reduction measures is widely recognised, but the measures themselves are not compelling".
Condoms, dental dams and lubricants are widely available to prisoners in some institutions. In other facilities, condoms are distributed only on request. 1
Health professionals use substitution treatment to treat addiction.
No institution operates a needle exchange.
---
Howard League, "Consensual sex among men in prison: Briefing paper 1". ↩
Mental health care
Generally, people suffering from mental health disorder are not held in special facilities butsome prisons do have such. Severely mentally unwell prisoners may be admitted to them. Otherwise, they are transferred to another institution or hospitalised.
At the National Health System's request, the Centre for Mental Health stated in a report on mental health that 45 % of prisoners suffered from anxiety or depression, that 8 % had psychosis and that 60 % had had a traumatic brain injury. The number of suicides, self-harm and violent acts reached a record high over the previous few years. The report pointed to disparities in providing care from one prison to another.
Guards are inadequately trained in caring for people with mental health disorders.
Neuro-psychological problems were not well identified, according to three inspectorates who were mandated by the Ministry of Justice. According to a report submitted, most of the prison personnel was not trained in how to provide support to prisoners with such problems (autism-spectrum disorders, learning disabilities, dyslexia, attention deficit and hyperactivity disorder (ADHD), acquired brain injury). A pilot project was announced in June for Bristol, Lincoln, New Hall, Swaleside and Berwyn prisons to improve the identification of neuro-psychological issues and ensure tailored support was provided by specialist teachers.

At the National Health Service request, the Centre for Mental Health called for better training on mental health for prison staff. The report it published, The Future of Prison Mental Health Care in England, also criticised the quarantine practices carried out during the COVID-19 pandemic.
Addicts receive special follow-ups. They are examined within five days of admission to prison. They can be placed in a special unit if there is one available. Nicotine and opiate therapies and substitutes are offered in most facilities. The prisoner may be transferred if necessary.
Some 75,000 out of 156,000 people on probation would have used drugs "problematically" during the 2019-2020 period. Only 3,000 of them sought drug treatment. The quality of this service was said to be mediocre. Prisoners who were treated while in detention had their treatments stopped upon release. A government spokesperson said: "We have recently invested an extra £80m to expand community drug treatment services in England."