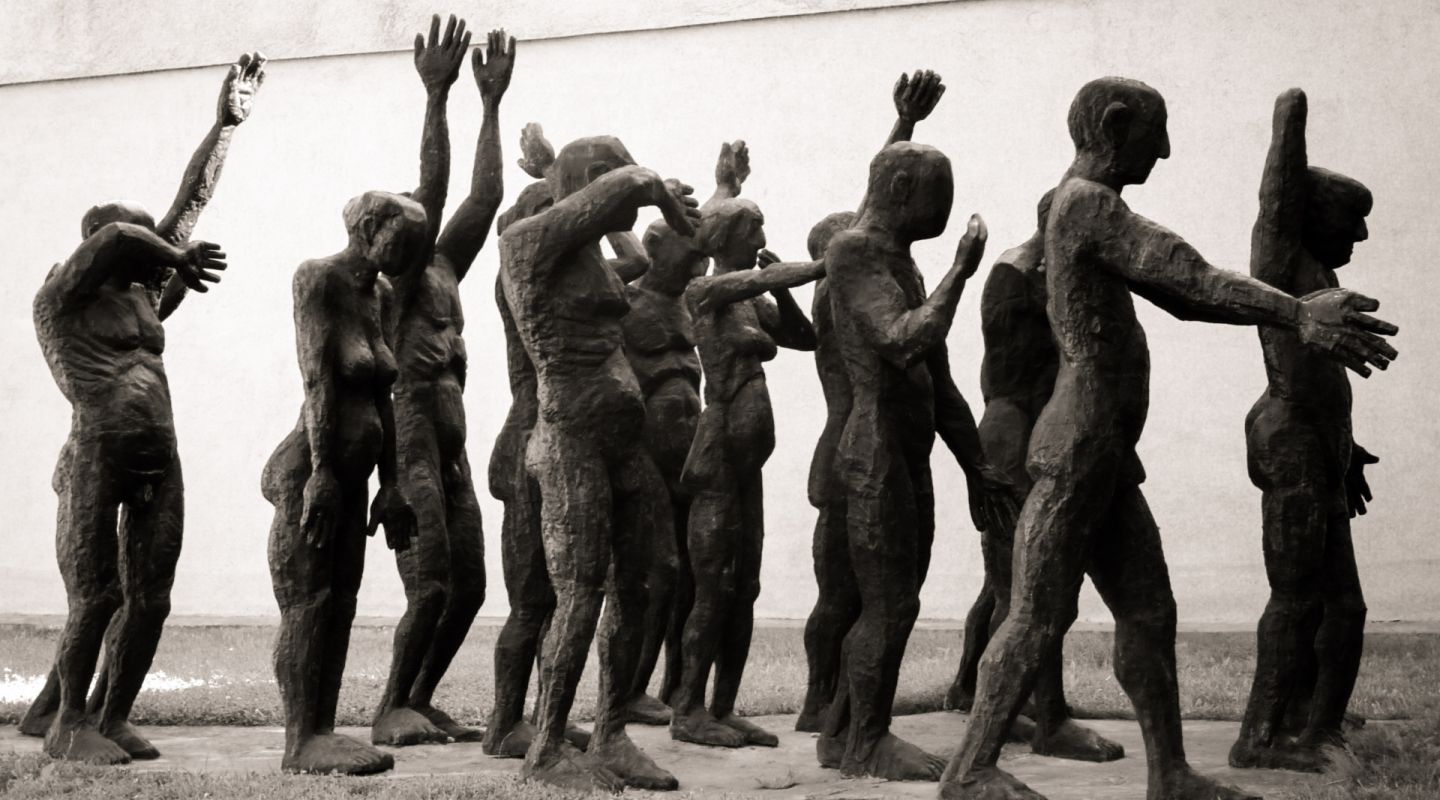 Back to map
Romania
Capital city —

Bucharest
Incarceration rate (per 100,000 inhabitants)

Name of authority in charge of the prison…

Total number of prisoners

Average length of imprisonment (in months)

Total number of prison facilities

An NPM has been established

Number and percentage of female prisoners

Death penalty is abolished
+
Contributor(s)
APADOR-CH (The Helsinki Committee) and Prison Insider
Daily life
The cells and their equipment
Most prisons are overcrowded and have inadequate conditions. Cells are mostly collective. The minimum floor space should be 4m2 for a multiple-occupancy cell and 6m2 for a single cell.
There is not enough natural light or too much artificial light in cells. Aeration and heating are insufficient, mould, poor hygiene and old and dirty mattresses have all been reported.
According to APADOR-CH monitoring visits in Târgsor and Targu Jiu prisons, detainees have less than 2m2 living space in collective rooms. Prisoners sometimes stay between 20 and 22 hours in their cell and two prisoners are sometimes required to share single beds. In Oradea prison, 2 prisoners are held in each 7m2 cell.
Romania will have to pay close to 100,000 euros compensations to 18 convicted inmates because of poor detention conditions, following a decision by the European Court of Human Rights (April 2016).
Food
Food quality is an issue in many prisons. On average, less than one euro a day is spent per detainee for food (3,76 lei). The quality of food was criticized by the Committee for the Prevention of Torture, which noticed in Poarta Alba the bad quality of food and the lack of fruits, meat and dairy products from the inmate's diets. Prisoners mainly eat potatoes, carrots, beet juice and onions. Prisoners have lodged complaints in across prisons, notably in the Margineni penitentiary.
APADOR-CH noticed that some prisons, like the Juvenile Penitentiary from Tirgu Mures, do not have a dinner room where detainees can have meals. Detainees must eat in their rooms. The kitchen at Tirgu Mures has poor hygiene. In Colibaşi, the kitchen walls are full of mould and damp and the ventilation system is not working1.
Inmates can request special diets to fit with their religious beliefs or special diet (e.g. diabetics). Detainees can shop for food in special prison stores but prices are high. For example, in Colibaşi Jacobs coffee costs 27,90 lei/500gr.
Prisoners can receive food packages from their families.
Hygiene
The European Court of Human Rights regularly condemns Romania for its poor detention conditions.
In the IacovStanciu v. Romania European Court of Human Rights case (Application no. 35972/05) the applicant criticized the detention conditions in Ploieşti Prison, Jilava Prison and its hospital, Mărgineni Prison, and Rahova Prison and its hospital. The ECtHR found, in its 25 July 2012 Judgement, that the prisoners experienced the following conditions while in detention: a limited number of toilets and sinks for a large number of detainees, toilets in cells with no water supply, sinks in cells providing only cold water for a wide range of needs (personal hygiene, washing clothing and personal objects, cleaning the toilets), limited access to showers with hot water; poor sanitary conditions in general, including the presence of cockroaches, rats, lice and bedbugs, worn-out mattresses and bed linen.
In the Ali v. Romania (no. 2) case (Application no. 30595/09), the ECtHR recognised in its 15 October 2013 judgment, (paragraph 40) that in some penitentiaries the water was not drinkable e.g. Jilava Prison.
The Committee for the Prevention of Torture's visit in 2014 in Arad and Târsgor prisons revealed worn-out plumbing, malfunctioning toilets and vermin blocking the toilets. In Arad et Oradea, shower heads are missing. Few soaps and detergents are provided for the detainees to wash their clothes and in Târsgor female prison, detainees have only 5 sanitary towel per month. In Arad, Oradea and Târsgor prisons, shower and warm water access is guaranteed twice a week. The National Administration of Penitentiaries recognised in its 2015 report that access to warm water on a daily basis, at the level of the entire prison system should be ensured by the end of 2017.
Bed sheets are distributed by the prison administration but detainees can also receive these from their family.
Health
Basic health-care in penitentiaries is free for inmates.
All prisons have at least one doctor and several nurses, sometimes a dentist and a psychiatrist. Târsgor female's prison has a gynecologist. Health workers are generally understaffed.
The number of psychiatrists is not sufficient and external psychiatrists can be contracted to respond to increasing needs. This is the case at Târgu Mures Penitentiary for Juveniles, where, at the time of APADOR-CH visits in 2014, 70 detainees were diagnosed with mental health problems.
Most of the detainees complain that dental treatments only consist of extractions because of a lack of materials. External dentists can be called such as in Codlea prison to provide specialised dental treatments. In such circumstances, prisoners have to pay for their own treatment.
Tichileti penitentiary for Minors and Youth has a fully equipped dentist practice, but no dentist had been hired at the time of APADOR-CH visit in July 2013. Detainees with dental problems had to be sent to the Slobozia penitentiary.
Slobozia has been re-fitted with new furniture and equipment, including a well-furnished pharmacy. The medical section includes 3 quarantine rooms, with 4 beds each, a room for TB sputum sampling, an isolation room for TB patients (unoccupied at the time of the visit), a dentistry room, a doctor's room and a nurses' room.
At the time of APADOR-CH visit to Botosani prison in December 2014, the medical unit had 5 rooms and 24 infirmary seats and was staffed by 10 nurses.
Activities
Prisoners have the right to participate in educational activities but the majority of detainees do not participate. There are courtyards and an orthodox church in all prisons.
Painting workshops, crafts, a music band, a closed-circuit TV studio, a library, a gym and a sports field were available in Botonasi at the time of APAOR-CH visits in December 2014. Detainees are also growing a vegetable garden.
The National Administration of Penitentiaries mentions some of the educational programs in 2015 such as "Prisons Poems", "The Theatre Festival for the Inmates" (7th edition) and the Second Chance educational program. Programs are organized by the penitentiary administrations, religious organizations and community organisations. There are civic education, psychological therapeutic programs and other activities to promote ties with the family.
APADOR-CH considers there is no real rehabilitation system in Romanian prisons, with workshops either full or ill equipped.
Work
According to the National Administration of Penitentiaries 2015 report, the percentage of inmates involved in work activities increased from 27 % in 2014, to 29 % in 2015. 8,462 inmates are selected and assigned to carry out work activities and prison maintenance. Of these, 3,255 are involved in profit generating activities that are service contract based.
Prisoners at Targu Jiu prison are paid on average 95 lei (21 euros) per service1. They work for the prison manufacturing mattresses, bedding or doing carpentry work. Prisoners also work for various companies in the area manufacturing footwear, doing construction work, etc. The products manufactured in these workshops are used strictly within the prison system.
Schooling and professional training
From 2015-16, 2,459 inmates were enrolled in training courses for secondary school and university according to the National Administration of Penitentiaries 2015 report.
Students in the prison system account for approximately 10 % of the overall prison population. One-third of the schooled inmates participate in courses within the program Second Chance – a special program for those who have outgrown the age of compulsory schooling. The percentage of imprisoned minors attending training activities is 64 % (201 of the 316 in detention), a slight decrease compared with previous years due to shorter sentences.
In September 2015, a Vice journalist wrote on the school system of Craiova Penitentiary for Minors and Youth 1. She identified that "classes are 45 minutes long and can have a maximum of 12 pupils. Each student is provided with a notebook and a language handbook. A pen is given to each student but taken away at the end of each lesson. The course also gives students the option of further education after release, by granting them a place in a "second chance" program or night school. For young detainees, having class is a way to escape and most of them like being in class". She mentioned also that despite educational opportunities, 40 % of all detainees end up being re-incarcerated following their release.
Media
Inmates have access to media (newspapers, radio, TV, Internet). Prisoners are not allowed to have headphones and often complain about the noise.
Religion
According to Law 254/2013, art. 58, the freedom of religion is guaranteed. Eastern Orthodox is dominant. Prisons have 30 orthodox priests and the law recognizes 18 religions in total (Roman Catholic, Protestant, Muslim, Jehovah's Witness, Judaism, etc.)
External participants
External participants are allowed to come to the prison only if they are involved in activities. These are mainly religious associations and organizations.
Financial resources and destitution
Inmates have financial resources from families, friends and work. Money can be sent via an account managed by the prison administration.
Detainees must pay for almost everything except basic medical attention (but not medication), minimum food (rarely sufficient) and some of the rehabilitation activities.
One or two shops are available in each prison with elevated prices for detainees to purchase goods.
Means of communication for the inmates
Individual requests or complaints should be sent to the prison director or to the general director of the National Administration of Penitentiaries or to the minister of Justice. Prisoners can also send their complaints directly to the President of the Republic who will follow up with the director or the minister of Justice.
Prisoner complaints are supervised by the judge for rights of the detainees and guaranteed by the Romanian law (Law 254/2013 on the execution of custodial sentences). This judge is based in the prison and can access all information and investigate and discuss with all relevant parties. His decision is binding and can be appealed by both the prisoner and the administration. The effectiveness of this process is questionable due to overcrowding.
In Botosani prison, the judge solves an average of 20 cases for detainees weekly1. Most complaints relate to violations of prisoners' detention conditions.
Regarding disciplinary sanctions, 3 days after a sanction is ordered, the detainee can file a complaint before the supervision judge and the sanction is suspended and sent before the first instance court.
Collective movements
On December 20, 2015, prisoners in Maximum Security Penitentiary Department Craiova protested against broadcast TV ending at 11pm each evening. Prisoners destroyed furniture in the rooms, burnt mattresses and broke windows1.
The National Administration of Penitentiaries (p 19) recorded in 2015:
4 escape attempts ; Codlea Prison (2 minors), Dej Prison Hospital (2 inmates), Mărgineni Prison (1 inmate), Poarta Albă Prison (1 inmate)
2 escapes ; Bacău Prison (1 inmate), Galaţi Prison (1 inmate)
5 desertions from outside work places ; Colibaşi Prison, Aiud Prison, Bârcea Mare Prison, Pelandava Prison, Focşani Prison (each event was committed by one inmate).
Security and safety
See Ill treatments et staff sections.
The National Administration of Penitentiaries mentions in its 2015 report that disciplinary sanctions for prisoners include, suspending the prisoner's right to buy shop products (apart from basic hygiene items) for up to two months, suspension of visits for three months, warnings, isolation for maximum 10 days, suspension of the right to attend cultural, artistic and sportive activities for a month and the suspension of the right to go to work for a month.
The European Committee for the prevention of torture (CPT) highlighted in its last 2014 visits that disciplinary sanctions are not always implemented in a proportionate manner and that solitary confinement may be considered abusive. In 2014, in Oradea prison a detainee stayed 26 days in solitary confinement despite the maximum permitted duration being 10 days.
In Codlea prison, detainees have complained that intervention units make checks at odd hours in the night to look for prohibited objects1. These inspections are not filmed. Detainees also complained not to be able to have privacy in their cell. Some prisoners cover the space around their bed with towels or bed sheets hung on strings like curtains, but the practice is forbidden and sanctioned.