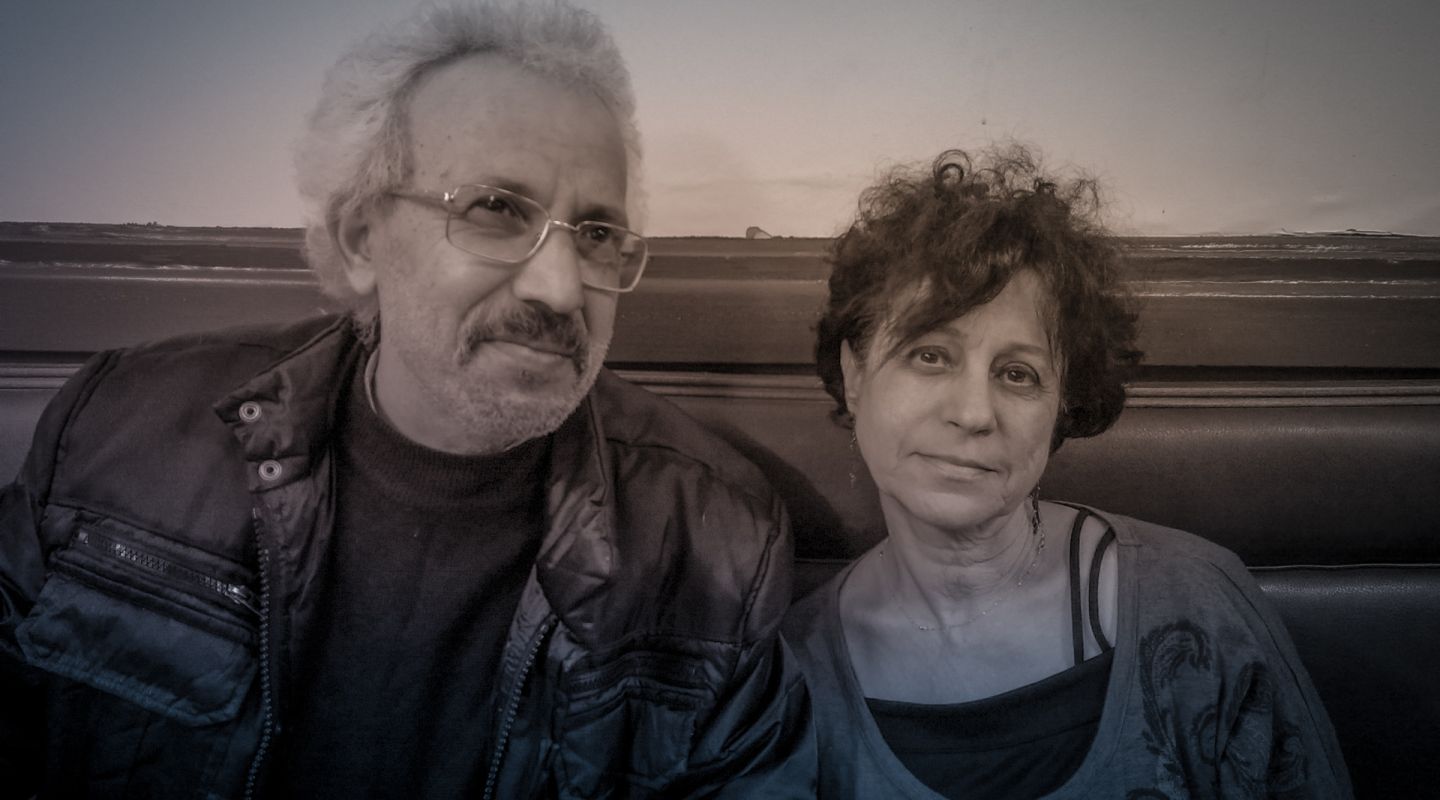 Topics
The 60-year-old couple aren't bothered by the cold wind's bite. It seems so ridiculous compared to the brutality and torture they endured
Hend and Raed have been political refugees in France since the end of 2013. They have respectively spent eight and ten years in the hell of Syrian prisons, on the confines of inhumanity. Freed in 1991, they recount the torture, humiliation, and the negation of mankind and life itself. The horror they describe is however even more terrifying today.
This November day is freezing in Lyon. The North wind bites faces, and crisp, dry air forces passers-by to wrap up warmly. Raed, wearing a winter hat on his head, and Hend, with a scarf wound tightly around her neck, are at the rendezvous. The 60-year-old couple aren't bothered by the cold wind's bite. It seems so ridiculous compared to the brutality and torture they endured. In Syria, Hend and Raed have respectively faced eight and ten years of incarceration under inhumane conditions, which violated their integrity, trampled on their most fundamental rights, in utter disregard of human life. From this life-crushing machine, they have emerged. Their faces, goodwill, and gentleness belie the injuries they carry within themselves. Political refugees in France since December 2013, they recount the unspeakable horror of Syrian prisons. Although their tragic stories took place between 1980 and 1991, they maintain that incarceration and detention conditions are unchanged today in their dislocated country; in fact, they are even worse. The disappearance of their recently incarcerated loved ones (nephew, brother, sister, friends), the murder of fellow detainees, the detention conditions of those who are sometimes released, and mass arrests, all bear witness to the fact that in Syria, prison is a world with neither law nor rights, a place where survival is reduced to hope, too often vain.
Hend Alkahwaji¶
"I was born in 1956 in a suburb of Damascus, where I studied agricultural engineering. It was during this period, in 1980, that I campaigned at the Communist Action League. In July 1982, I was arrested in the street and taken into detention at the Military Investigation Branch in Damascus, due to my political activities. I was placed in an underground cell, without windows, and equipped with only one light bulb in the ceiling. I spent an entire year in this cellar, without seeing the light of day, without a bed, without anything, without a single book, without a radio. Every day, they brought me a little bit of food but I was not allowed to go out except for the violent interrogations that were held, by day and by night, in a contiguous room. The authorities hoped that I would give up the names of all the activists in my political party and to do so, they used all forms of torture. Blindfolded and gagged, I was electrocuted on my fingertips, ears, and feet, until I bled. Then, they forced me to walk through icy cold, salty water. The pain was unbearable.
Trapped inside a car tyre, my torturers hosed me down with freezing water. They left me then in my soaking wet and frozen clothes. I was shivering. I didn't have any spare clothes. I kept the same clothes for a year.
They hit me, humiliated me, treated me like a dog. My family and friends didn't know where I was, they were not informed about my arrest. I didn't have a trial, nor a lawyer, nor any contact with the outside world for a year. I was negated. I didn't exist. Sometimes, I sang in my cell to break the silence, not to go mad. But even that was forbidden. My jailers ordered me to shut up. Their abuses were also sadistic and psychological: they forced me to attend the torture of other detainees and to listen to their moans. Everything was a permanent humiliation. Twenty days before my release, I started a hunger strike to demand my transfer to a women's prison with less appalling detention conditions. I was finally freed in March 1983.
I went back to my job as an engineer, reengaged discreetly in my activities as a mere political activist, and a year after my release, on the 19th of March 1984, I was arrested again, in the evening, at my residence, by the security forces. They took me to the same basement, assaulted me the same way, they beat me, tortured me, and abused me for three months. My detention conditions were even worse.
In May 1984, I was transferred to the Qatana Women's Prison. Here, we were in group cells of 12 to 15 women, cells that were open during the day onto the courtyard. We had the right to cook and receive visits. As a political detainee, the only one in the prison, I was placed under the responsibility of the military authorities and my visitation rights were reduced to once every three months. In 1987, I was transferred again, to the Douma prison, in a rural area, along with other political detainees who had followed a similar path to mine. We were grouped into a dormitory of about 30 places. We slept on straw mattresses placed on the floor, there still wasn't any hot water, but life was less hard. We were allowed to read, write, knit, paint, educate ourselves. I learnt French in prison, by myself. During the rare authorised visits, my family would bring me clothes, food, books, anything that could somewhat soften my daily life.
On the 26th of November 1991, after seven and a half years of detention, I was freed following a presidential pardon for all political detainees. During all those years, they never notified me of anything. I was never tried; I never had the right to a lawyer. I was "under investigation" for almost eight years …"
---
Raed Al Nakshbandi¶
"I was born in 1960 in Damascus. A mechanical engineer and activist of the Democratic Socialist Baath Party, I was arrested in April 1982 and taken to the Military Investigation Branch in Damascus. During the first night of interrogation, I was beaten and tortured with the "German Chair" method. Strapped to a chair, it involved bending my spine backwards until its breaking point, in order to obtain information. The procedure was supervised by a doctor. I spent 45 days in an individual underground cell under drastic conditions and was subjected to other violent and humiliating interrogations. Then, I was placed for a month in a group cell with 12 other detainees. The interrogations, accompanied by ill treatment, continued. Later, I was transferred to a bigger cell, equipped with toilets, which was not the case before. The number of detainees ranged from 60 to 120.
We slept on the floor. The ventilation was artificial, we had trouble breathing, the food was insufficient, we were hungry, many fell ill, some died at our feet.
Visits were forbidden. Three months after my arrest, the interrogations ceased, as if my file was closed although no procedure had ever been initiated, no judgement pronounced, no charges ever laid. Forgotten. For a year. A year without leaving this cell.
Then, in May 1983, I was taken to the Palmyra Military Prison where I remained for four years. This prison is a former barracks dating back to the French Protectorate, and the place in which we were parked was a stable where the trough and chains to tie up the horses were always present. The military police controlled the place, which never stopped expanding. The cell, which I shared with 65 other co-detainees, measured about 80 square metres. Here too, there were no beds, we slept right on the floor on a blanket that had an insulating side. As political prisoners, we did not get the same treatment as ordinary prisoners. Although we had access to the courtyard during daytime, we were however isolated from the prison's internal life.
I received my first visit after two and a half years of incarceration, then once every three months. I still hadn't received any information about my file, a state of emergency having been declared, the authorities didn't have to justify their arrests. We languished … At the end of 1987, I was taken to the more modern Saïdnaya Military Prison, in a suburb of Damascus. We were ten in a cell equipped with a shower and toilets. Our basic comfort was better, we had small cotton mattresses to sleep on, and were allowed to go out into the courtyard for an hour every day and receive visits once a month.
I was finally freed on the 21st of December 1991, following the presidential pardon of political prisoners."
Interviewed by Marie-Stéphane Guy
Generalised, commonplace and systematic torture, along with illnesses linked to inhumane and unsanitary detention conditions.
For further information¶
The number of detainees in Syrian prisons is difficult to determine. In 2011, the Institute for Criminal Policy Research ICPR estimated the Syrian prison population at 10 599 individuals.
International observers and the detainees themselves view this figure as falling significantly short of reality. Tens of thousands of individuals are subjected to forced disappearances in detention centres. In August 2016, an Amnesty International report denounced the crimes against humanity committed by government forces within state, civil, and military prisons. The report, supported by 65 witness statements, exposes the daily atrocities experienced by thousands of detainees: electrocution; scalding with boiling water; rapes; famine; humiliations; and beatings that continued until death.
Generalised, commonplace and systematic torture, along with illnesses linked to inhumane and unsanitary detention conditions, have led to the death of 17 723 detainees between March 2011 and December 2015, or roughly 300 deaths per month …
17 723
detainees died between March 2011 and December 2015¶