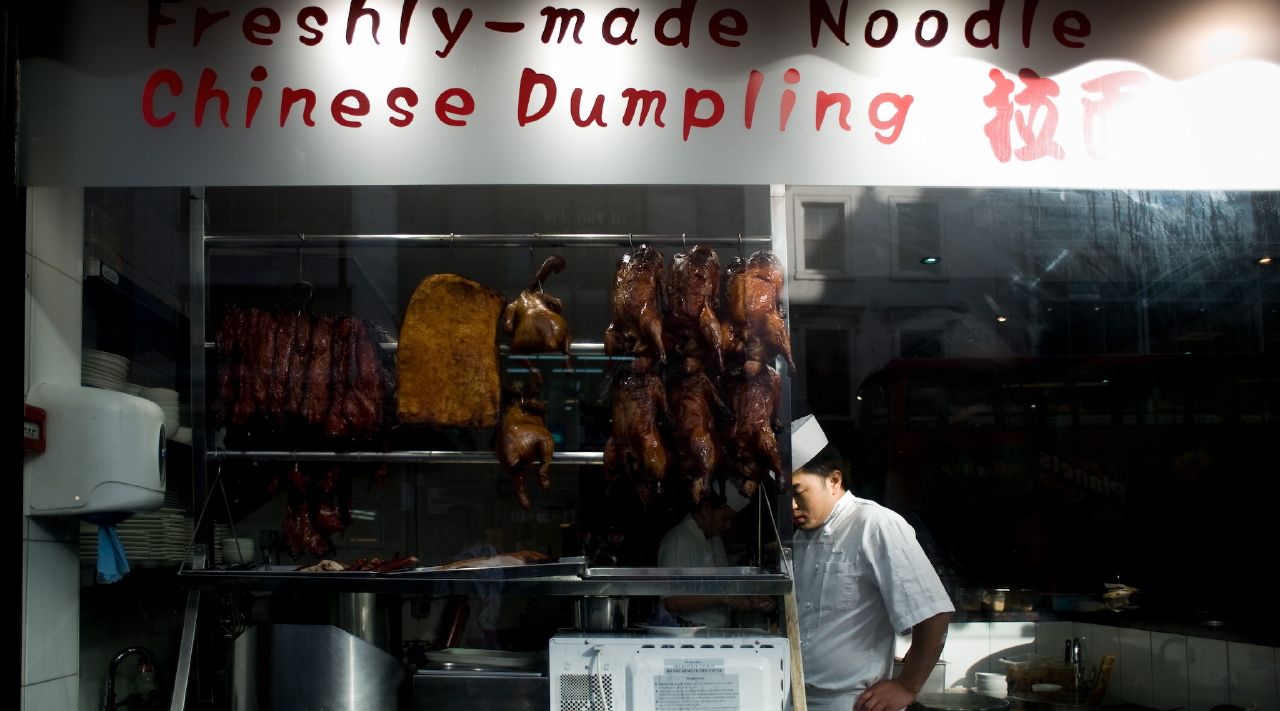 Topics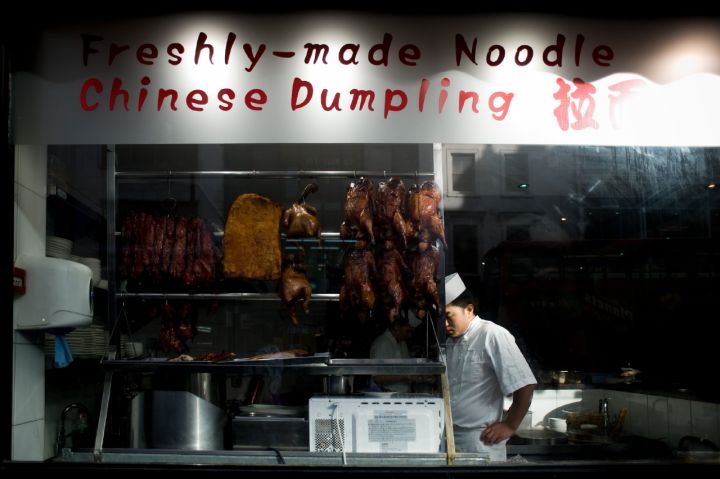 Taste — 6/12
Each month, the photographer Bertrand Gaudillère creates an image or chooses one from his archives. Prison Insider sends it to a dozen participants, prisoners around the world.They are in Argentina, in the United States of America, in France, in Switzerland, in Guatemala, in Ukraine, in Colombia, in Italy, in Japan, and in Belgium.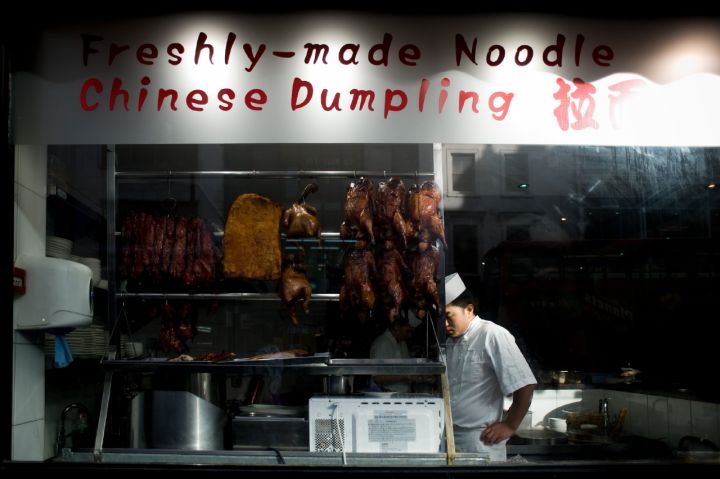 Bertrand talks to the participants
"London, Oxford Street, early in the afternoon.
I arrived by the Eurostar after a sleepless night. I am hungry! Why not some Chinese Noodles? Or a pizza? Finally, I ended up buying an awful sandwich. It's ok, after all, I don't care about these meals that are not actual meals. These days, I have eaten most by necessity rather than by desire…"
Bertrand.
Prison Insider invites you to freely express what you feel, when, in prison, you look at this image about the sense of taste.
Italy
Authors :
— Giuseppe, 40 years old, male. /
Translated by Tanya Solari & Kelly Field.
A light meal!
Whether it's an egg roll (involtino primavera)1 or a panino, it is not much of a meal.
All of you out there are lucky to be able to choose. Not us. We hold on in our cells everyday–with a mix of longing and sadness– waiting for what the others have decided to feed us.
The others choose for us.
They decide our lunches and dinners the same way they decide every aspect of our life. If only we could still call it a life.
2:An italien egg roll with rolled up and fried ham
__
Read the original version (in Italian)
United States of America, Schuylkill (Pennsylvania)
Authors :
— Eric, 45 years old, male.
Now, every bite becomes a new destination
The taste of escape
What I need to escape lies near the bottom of an empty bowl of noodles. A bowl laced with ingredients so lavish, it turns my taste buds into super-radiant emotions that travel at the speed of thought. So powerful they transport me out of my present peril to a destination or time of my choosing.
My palate is my pilot. The chef is my quantum physics engineer and mad scientist. I give him stolen scraps: leftover vegetables and noodles. In return he gives me the ability to taste…his delicately prepared, robust morsels of freedom. Some parts are deep fried by my desire to escape. Others are deviously blended bites of fantasy…all devilishly delicious.
As I travel, propelled through thought, taste and space, I witness a reflection. A building of memories that looms in the window of my soul. Now, every bite becomes a new destination, the taste of succulence, a new blissfulness. I dare not stop. I will not stop, but then suddenly my fork drops, into the bottom of an empty bowl of noodles.
Japan
Authors :
— HV, 60 years old, female.
Tasteless:
Food we receive is not always edible,
Small bread roll we receive now and again, has no taste, sometimes
Individual serving of jam, which I swirl around my mouth, and Revel in the taste, a little taste is better than none.
A lot of Japanese food here in prison has no taste and some of
It has an awful smell, no western style dishes, sometimes
Noodles but again no taste, all meals calorie-controlled
Filling us for an hour, then you're hungry again, I've forgotten
What Western food tastes like, I only eat to stay alive,
While in this situation of tasteless food…
France, Arles
Authors :
— Pascal, 45 years old, male. /
Translated by Rebecca Neal & Amy King.
I really miss having a good meal with family or friends.
What can I say about taste in detention?
One thing I can say for certain is that here we have an excellent cook who does his best with what he has at his disposal. He and his team give us balanced meals that don't taste too bad, so I can't complain…but that wasn't always the case! In the last prison I was in, the food was swimming in oil and fat. I'm not exaggerating–at every meal, me and two other inmates would wash all our food and cook it again to make it edible.
Even so, I gained 30 kg while I was there! In the maison d'arrêt [a kind of prison in France where prisoners are held while they await sentencing], we could only walk around for two hours per day and go to the gym once per week, so we were forced to become sedentary. Fortunately for me, I now have greater freedom of movement, and thanks to sport, I'm in good shape. However, I really miss having a good meal with family or friends. Now, after seven years in prison, I'm still extremely optimistic ! Although I don't regret my past, being imprisoned for so many years leaves a bitter taste in my mouth.
France, Roanne
Authors :
— Anne-Marie, 59 years old, female /
Translated by Vivian Durmis & Amy King.
Indeed, the food in prison does not often meet our expectations and is nothing to write home about when comes to taste. Sometimes, we are served acceptable Chinese noodles, cheese pizzas on Sundays and kebab sandwiches served with potatoes chips on Fridays (inedible, always cold upon delivery). When we are hungry, and we are not able to get our hands on anything else, we are at least given bread and butter in the evening, soaked in warm or hot water, while other people have nothing. That was the case for me as a prisoner in 1985, at the Montluc prison in France…Here on open detention, it seems like a luxury.
Right now, I feel like eating a nice free-range chicken served with wild mushroom sauce. Or a good lemon sole meunière, served with a large steamed potato. Or some "cervelle de canut" cheese sauce, or a good roasted pig's foot from "les Enfants terribles", the renowned restaurant on Mercière street, that I first visited about 40 years ago. I used to go there with my father, a great cook who loved good meat.
This picture takes us to far away China where we discover the flavours of sweet black mushrooms, the ginger and lemongrass-flavoured cuisine.
Here, we are concerned about our "prison style" food, especially during the weekends that are often boring…flavours from other places carry us away somewhere else… outside!
Argentina
Authors :
— Pablo, 36 years old, male. /
Translated by Desirée Morales & Vivian Durmis.
A very nice picture, mouth-watering, haha…
This image awakes a feeling of hunger in me. Some memories, like the one drawn from this picture of an Eastern restaurant, remind me of a taste I may have known at a certain point of my life when I was a free man.
This scene of roasted food also takes me back to when I used to either visit a grill or a fast-food restaurant; I enjoyed my food, whatever it was, and then carried on with my life. That instant of delighting myself in a tasty feast is priceless in times of freedom…
Japan
Authors :
— CH, 25 years old, female.
A glutton am I and I have feasted incessantly upon richness and spice.
My ability to taste is more to me that just some simple pleasure. It is my consoling friend and indulgent lover, my tempter, obliviator and invigorator.
Like the child in the candy store after dark, I ran through the food halls of the market at World Cuisine in a craze.
Unthinking, unseeing, I take plump fruitcakes from their hooks, jellied fruits from their moulds and lobsters from their shells. I ripped open packets of sugared doughnuts, frosted cakes, crisps and chocolates like an animal.
My teeth I blunted on tins of tuna, fruits, beans and spaghetti or crushes glass jars of sauces, pickles and conserves in a blind desperation for their contents. I licked at tubs of ice cream and frozen desserts until my tongue bled, and scratched at biscuit tins, boxes of chocolates and the cardboard wrappings of lasagne and pizza until my nails cracked and the paper made cuts on the skin of my hands. On these and more I gorged myself, and gorged myself, and in my wake I left a mountain of half-devoured food stuffs and their wrapping, atop which I made a throne of charred steak bones and ribs, pastries and nutshells.
I was a shame to my gluttony, and I adored it. Taste's joys were my addiction, and I was its willing subservient.
Though I no longer can indulge in its unholy practices, I dream of the day I can. Soon, I think, soon, they will be mine…Custard tarts drizzled with lemon curd, wagyu beef sliders with blue cheese sauce, butterscotch puddings with dark chocolate raspberry confit, lemon roasted salmon with duck-fat-roasted new potatoes, lamb shanks with blood oranges…
United States of America, Lake Placid (New York)
Authors :
— Tewhan, 39 years old, Male.
Why not? or?
Here we are denied the right to choose and so this bit of freedom I see her speaks of the gap between that of incarceration and freedom, the right to choose.
Life, let alone food either is or isn't.
What is served (food) you either eat or starve. An awful sandwich purchased in the early afternoon I'm certain would meld ones taste buds who lives here and is forced to feed on societies scraps. But, oh how we seem to share a significant similarity. Eating mostly by necessity than by desire. Unwanting to go without. Let us not confront the sleepless nights. Awake till dawn. Fear, anxiety, hunger. The freeze chilling ones bones. The hunger causing stomach pains. Roaring from ones belly, a beast. Freshly made noodle, Chinese dumpling is what the words read, but what I see is freedom.
France, Arles
Authors :
— Christophe, 43 years old, male. /
Translated by Marg Mc Millan & Amy King.
A taste of a previous life
Just like memories of the past, a taste of a previous life, sharp pangs of Proustian longings which tear our confined and resigned hearts. A sense of the evoking of a voodoo priest resurrecting a cadaver from what was a deceiving sensation of reunions fast disappeared.
Taste is no longer one of the senses, it is a feeling, one of nostalgia, an indigestible remedy of a dish that is cold, very cold.
Ukraine
Authors :
— Denis, 37 years old, male. /
Translated by Ukraine without Torture
A horrible nightmare for a vegan …
One of the few moments in life, worth living for…
Yes, it is tasty… But in life, there are many other moments worth living for. Just look around you and listen to yourself.
By the way, Bertrand, joking apart, why don't you send me a smoked goose into the prison. I was planning to ask my wife to buy me a pair of sneakers. Now, I will ask her instead to buy me one big goose; I can't wait to bite a chunk of it with my teeth!
–
Read the original version (russian)
Guatemala
Authors :
— Carlos, 67 years old, male. /
Translated by Briane Laruy & Jeanette Trestini.
Taste
If we take it literally
We can say that's where the good things are,
Some have it, others lose it, with nothing in exchange.
I believe that those of us who are imprisoned
Chose the worst option, that's all.
We did not give enough importance to the good things.
As a biblical passage says
"The wages of sin is death."
The payment for carelessness and pride
Is imprisonment.
Now we are suffering this sentence
Out of pure obligation rather than pleasure.
We miss our freedom.
Let's hope that we have learnt our lesson.
Otherwise, we will be back here
And that will be difficult,
Even more so for our families
If you are living
Such a situation, do not be selfish,
Talk to your friends and family.
Tell them the horrors and humiliations
That we live through here, so that they will avoid at all costs
Ending up in prison.
Colombia
Authors :
— Ricardo, 57 years old, male. /
Translated by Zoe Pilling & Vivian Durmis.
Honestly, laying here in this strange place to which we now belong, the sight of such a meal as I glanced through the text, made me long for a special delicacy.
Here we are forced to eat almost the same food every day and the quality is nothing to write home about. We can only look forward to our loved ones visiting so that we could gracefully be served with food that do not necessarily translate to luxury but has an emotional ingredient, a desire that fills the heart of everyone in these miserable places of deprivation of liberty: the taste of home, that essential seasoning!
Switzerland
Authors :
— Inmaculada, 36 years old, female. /
Translated by Jennifer Lee & Shannon Kirby
I miss many flavours, but above all, I miss the taste of salt in my mouth after a swim in the ocean on a summer afternoon
After so much time deprived of freedom, including the freedom of what I want to eat, there are tastes that seem to have been lost somewhere in memory. But the flavours of food are not the only ones that seem forgotten; the taste of kisses when you get home also seems to have dissipated. The taste of welcome or farewell hugs, sights with the taste of love…
So many flavours have been deadlocked.
The deprivation of freedom is not limited to remaining behind walls, the deprivation of freedom also limits all of your senses. The smell of your perfume disappears, the touch of caresses becomes impossible, your preferred tastes are put on hold and the impossibility of seeing the ones you love is a reality.
I miss many flavours, but above all, I miss the taste of salt in my mouth after a swim in the ocean on a summer afternoon. In me now there are only flavours of nostalgia and sadness for everything that at this moment cannot be, but that one day, I hope will be again.