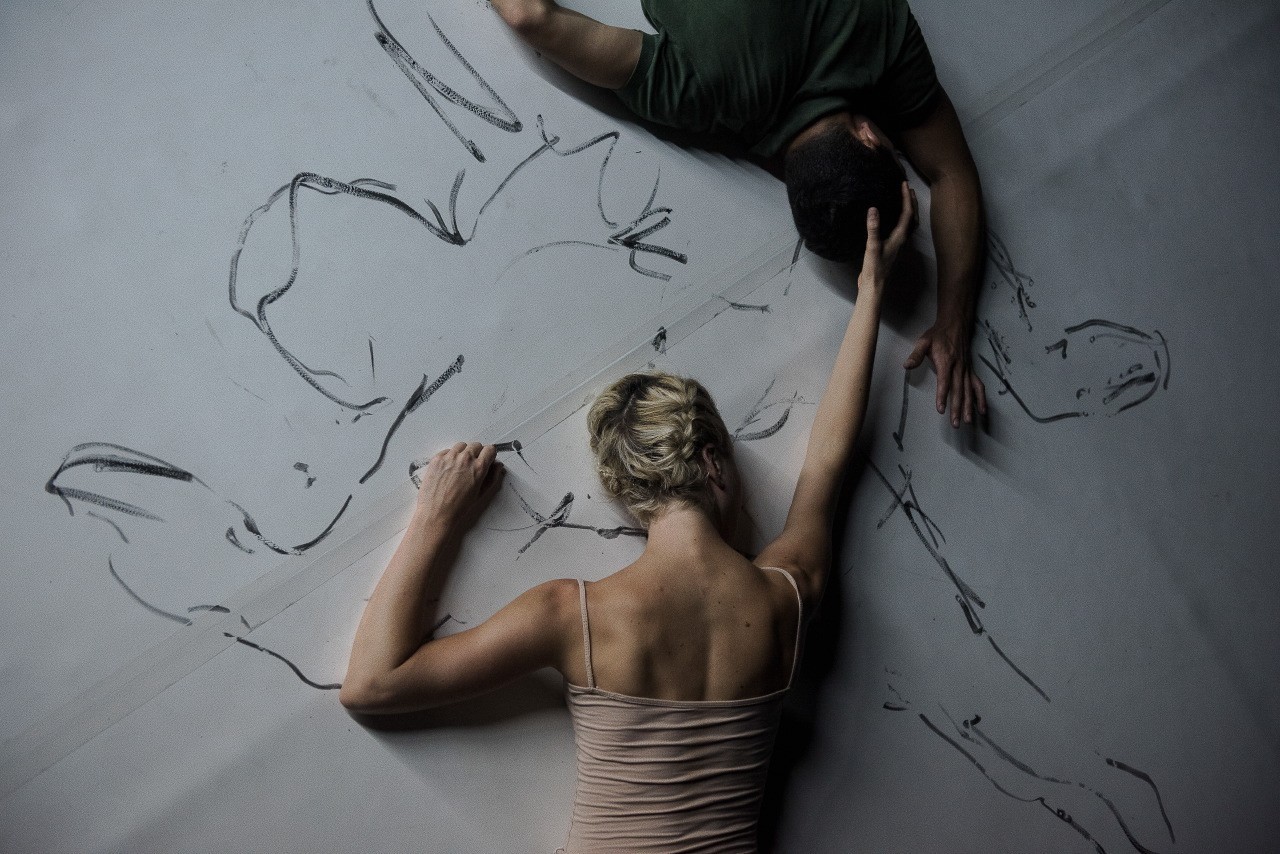 Touch — 2/12
"Who is to speak for the sense of touch?"
Each month, the photographer Bertrand Gaudillère creates an image or chooses one from his archives. Prison Insider sends it to a dozen participants, prisoners around the world.They are in Argentina, in the United States of America, in France, in Switzerland, in Guatemala, in Ukraine, in Colombia, in Lebanon, in Italy, in Japan, and in Belgium.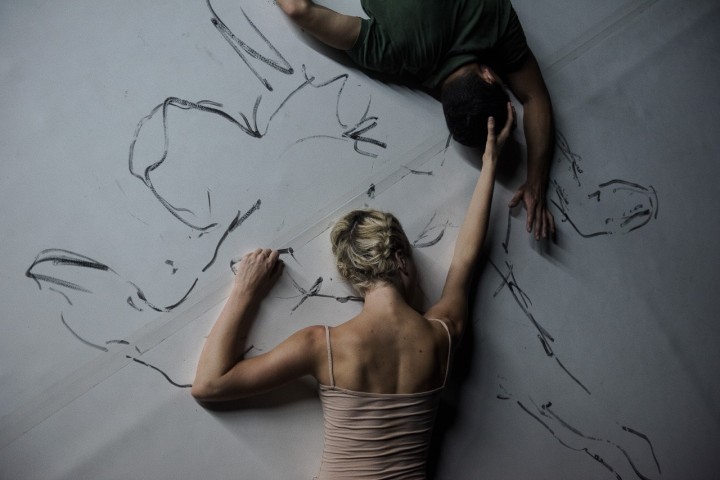 Bertrand talks to the participants
They are dancers, and my mission is to take photographs of their performance…I follow their movements, up until the moment when their bodies freeze. Motionless, their bodies touch. It is not an embrace. The bodies outlined on the ground make it look like they are lifeless, but then we can see a hand reaching for another, this rush of life...It is said that the sense of touch is vital for the survival of mankind, as well as that of animals…
Bertrand.
Prison Insider invites you to freely express what you feel, when in prison, you look at this image about the sense of touch.
Japan
Authors :
— CH, 25 years old, female.
Falling rain never deigns to alight upon me
Staring at his latest photograph I am reminded of one fact; I have forgotten what it is like to be touched. Falling rain never deigns to alight upon me. I cannot reach through metal mesh, I cannot experience it. I see the dancers frozen in their outreach, the press of flesh on flesh and though somehow in-intimate, I am envious. I long to be held.
What is it like to be wrapped in the arms of another? Or to hold a hand, entwine a pinky, bump a shoulder? Once, a description of such easy interaction would have been simple, even unnecessary.
Now I could not tell you what the texture of skin is like upon a body other than my own.
Lost. Lonely. Longing. These are my words. This is what is evoked by an image of dancers from in their performance. Seemingly all of the Human Element has gone from my life. Without it I feel as the shadows must. I am but only a copy of another of like kind. I do not live in a world of physical interaction and stimuli as you do. And now, for this, I fade.
Lebanon
Authors :
— Ismat, 45 years old, male. /
Translated by AJEM.
Yielding to the power of love drawing them into one body. Strong, they breathe life leading them to a sad world. Tired deep down, they meditate deeply their love and brotherhood, increasing trust and faith among each other, till they become one heart facing all the troubles they encounter on the stage of life.
The body drawn on the floor may be of someone dear missing, or might represent our tired burdens, figures that no one notices, knowing that it's an entire being standing like a sculpture.
However invisible, despite all the noise he makes. The hand gesture is a salvation net, glorifying the other and making the lines on the deaf floor a masterpiece. A modern mirror that emulates the world, in a heart beating with buried wishes in our deep selves.
— Read the original version (Arabic)
Francia, Arles
Authors :
— Christophe, 43 years old, male. /
Translated by Marg Mc Millan.
Just like the dancers who touch, what unites us is this absence as symbolised by the drawing. The lack of the other, others, of something removed from us when we are locked in. A part of us is left behind the walls, a feeling that is common to the "lifeless" that we are; beings in parenthesis, forced to touch each other by the lack of space. We share this emptiness, intrinsic "nothingness" buzzing around, a throbbing pain that keeps track of our days like a metronome.
Ukraine
Authors :
— Denis, 37 years old, male. /
Translated by Ukraine without Torture
He: For your sake, for our sake, I will do anything, I will overcome everything.
She: Hold on, I am around, I am with you.
--
Read the original version (in Russian)
France, Roanne
Authors :
— Anne-Marie, 59 years old, female /
Translated by Kristin Filiatrault & Marina Bousi.
It helps to remind us that we exist, since our birth, no matter where we are
For some, these bodies, frozen on the ground, may evoke death. But not for me. These bodies are like a verse or a squib, in a novel or a tale. Like a leap, this elongated position seems like a dance movement that might appear in the array of ballet dancers' gestures.
The young woman's hand outstretched to touch the head of this man in motion. His hand, a few inches off the ground, pointing in her direction; these movements produce strong feelings within me. It suggests palpitation on living bodies. When a dog sleeps deeply, and we cannot tell if it is breathing, our first reflex is to touch it to see if it is still alive.
From prison, I would say that touch is an essential link; a way to be in contact with the objects we use, to experience textures and clothes, to feel the books we love to read and which often create strong sensations and produce varying degrees of emotion.
Touch is essential for the survival of human beings and animals, but in a closed environment, it helps to remind us that we exist, since our birth, no matter where we are. Alas, we cannot touch animals in here. But feeling the hands of our children, of our families, and hugging them during visits keep us connected to the outside life, even if is only for a brief moment.
The clock that counts the hours as they fly by, follows the same rhythm as outside, except that in here, we are confined precisely by the time that passes; we want to touch the clock every day so that it moves faster.
Touch is the feeling of life, simply.
Colombia
Authors :
— Ricardo, male /
Translated by Phillip Rothbart & Zoe Pilling.
In one way, our sense of touch provides our salvation.
Many have compared prisons to tombs for the living.
At first glance, this photo seems to be of a crime scene before the removal of the bodies ... Those of us who have experience of prison life, will recognize the reality of this depiction.
Here we must cling on to what we can physically touch and to the never-ending, monotonous, daily routine, backwards and forwards to the same few places for the length of our sentence.
In one way, our sense of touch provides our salvation; the ability to make physical contact with our wives, to greet friends with a kiss, to hug our loved ones, and above all, to receive a hug of sympathy and a liberating kiss from our mothers: these are moments of respite we are permitted before we return to the oppressive confinement of walls and bars.
Italy
Authors :
— Giuseppe, 40 years old, male. /
Translated by Amrita Singh & Marg Mac Millan.
An act of love
If this photo is held up vertically, it looks like a woman holding the head of a man in freefall as though it were planet earth.
However, if it is laid flat, it looks more like the chalk outlines of two bodies that the police leave on crime scenes. From this angle, the two dancers also seem lifeless, sprawled out on the ground, as if washed ashore after a shipwreck.
Then an outstretched arm can be seen which suddenly evokes an act of love.
Read the original version (in Italian)