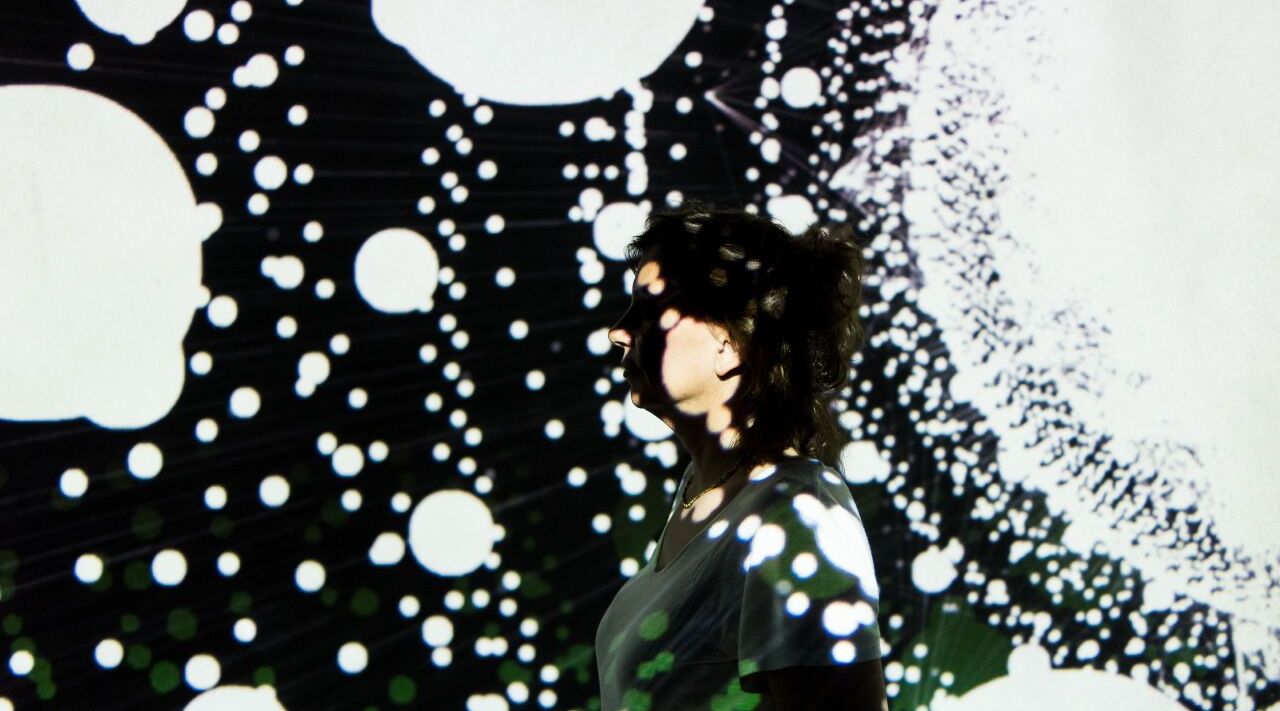 Sight — 7/12
Who is to speak for the sense of sight?
Each month, the photographer Bertrand Gaudillère creates an image or chooses one from his archives. Prison Insider sends it to a dozen participants, prisoners around the world.They are in Argentina, in the United States of America, in France, in Switzerland, in Guatemala, in Ukraine, in Colombia, in Lebanon, in Italy, in Japan, and in Belgium.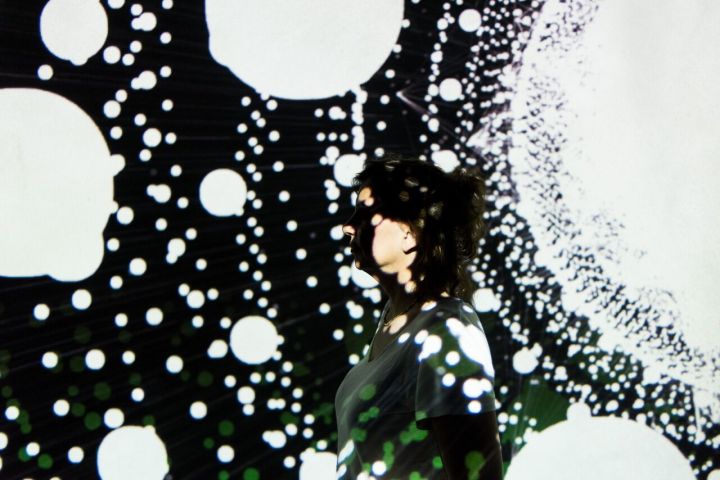 Bertrand talks to the participants
Paris.
I discover a place with immersive exhibits which act as a sensorial experience. Images and patterns are projected on to the walls, covering the entire surface and moving to the sound of music which invades the spectator's space. I watch it with the impression of seeing nothing.
Everything is going too fast. My eyes are in a daze. I feel like I'm having hallucinations.
Bertrand.
Prison Insider invites you to freely express what you feel, when, in prison, you look at this image about the sense of sight.
Switzerland
Authors :
— Inmaculada, 36 years old, female. /
Translated by Jennifer Lee
This is what I am, although it is different. That is how I feel here, invisible to those who knew me, camouflaged by the environment of this prison. Everything good that happened before has disappeared, has disintegrated like fireworks lost in the darkness of night. It is as if I ceased to exist, and the projected images weigh more than my own being. White on black, like life itself. Life is darkness, and the points of light are the happiness experienced only at certain moments. Ephemeral happiness, perpetual darkness.
Suddenly, a large point of light. Someone's words take me away from being that "non-existent" woman I have become. Something brings me back to the world, and although it is only for a moment, someone sees me again, someone remembers me, looks at me... I'm in the life of someone in some way... I am, I exist, I participate, I breathe, I feel... and everything seems to make a little sense again. My smile appears to come back. The dignity that left seems to return again.
France, Arles
Authors :
— Pascal, 45 years old, male. /
Translated by Vivian Durmis & Lynn Palermo.
What else can I say, since my first letter about sight? Nothing has changed here. Still the same concrete walls, bars, cells, the same faces, often uptight, tense, sad or angry. A short time ago, I was thinking of our first exchange when I noticed the tops of the two trees behind our prison fence had grown higher. But I couldn't say how much, they are so far away!
To remain strong in this inhospitable place, I keep to my daily but effective routine. Work, sport, studies and theatre. And it works! I passed my university entrance exams, I am not going to relax, or else, that would be the end. So, I am about to start my first year in psychology, and I hope to go as far as possible in this field while I remain in prison. It is my Ariadne's thread in this microcosm that is hostile to good mental health. There are so many who go completely off the rails for lack of direction.
Sometimes, little wildflowers grow through the cracks in the macadam of the prison yard and some inmates water them. No one dares step on them, which shows to what degree everything that seems ordinary in the outside world takes on the utmost importance in here. For seven years, I have been locked up in this hermetic bubble where nothing changes but me, with my hopes for an early release..., which is still far off.
Prison is like dying a little. Turned in on ourselves, we protect ourselves, each in our own way. In here, the barbed wire, bars and grey walls form our universe. I would not advise anyone to come serve a sentence of any length, for there is absolutely nothing interesting to see in prison.
Italy
Authors :
— Giuseppe, 40 years old, male. /
Translated by Tanya Solari.
The nightclub, the stroboscopic lights, those light beams that go on and off to the rhythm of the music.
That push you to move.
No, no, I am wrong
It is just a hallucination.
One of many.
But I see betternow: they are stars. And I am very close.
They tell stories to my children.
I beg your pardon again. There, there in the middle is a geisha who managed to free herself from her male patron.
It is just like the nightclub: the stars and hallucinations speak to me of freedom.
__
Read the original version (in Italian)
Guatemala
Authors :
— Carlos, 67 years old, male. /
Translated by Jennifer Lee.
We will sleep the eternal sleep
The one behind the bars is I, for today.
Life always gives us an opportunity,
Meanwhile we are like projected images,
With background music that tries to hide all,
But does not succeed in doing so.
It seems as if we can see, but we see nothing,
The walls block us from that possibility.
Here, life passes slowly.
Imprisoned, life is lost from us
And even makes us feel
That what we do live is too cruel;
And so we try to lose ourselves in our dreams,
But harsh reality wakes us.
We awaken burning with anguish,
Wanting to wake from this nightmare
That is killing us each and every second.
With great sorrow we see hope extinguish;
light become dimmer,
and soon darkness will reign.
The longed for freedom will be no more.
The body, soul, and spirit will falter,
We will sleep the eternal sleep,
Where the bars are the only things that remain.
Then there will be no sorrow, anguish nor desires.
Death will liberate us,
Nothing will matter anymore.
Light the candles with your codes, laws and decrees
We will all go inert towards the same eternity.
United States of America, Lake Placid (New York)
Authors :
— Tewhan, 39 years old, Male.
This photo tells many stories yet the deepest of them all is just that... The story of black and white.
What exactly do I see, what exactly do I feel?
I see so many people trapped in the illusion of black and white. Not only in terms of the complexion of one's skin color, thus and so with respect to the axis in which the world rotates. The illusion that everything is as it seems. Black and white. I feel terribly pained for the many persons who disbelieve that from out of the darkness arrives the light. The hurt as I draw parallels between black and white, as I do prison and freedom. The air I breathe and the graveyard. All the while we can see the simplicity of black intertwining with white on a canvas, yet how difficult and distanced the two (black and white) regarding race.
This photo tells many stories yet the deepest of them all is just that... The story of black and white.
The female I see in the center of this page also lives at the center of the universe. For women are the mothers of civilization, so why are "we" so uncivil? Black and white? Why do we break the harmony to be had in black and white? Why is there no peace, tranquility, serenity in black and white? What I see is the world trapped in a daze, the severe illusion that black and white are not one in the same. I see the loss of oneness within humanity as we characterize everything as black and white. What I feel is sorrow, hurt, shame. I am a black man buried deep inside what see say is a white man's world. Even I have been twisted, confused, tricked into not alone black and white, but black versus white.
What a shame. Outside from what I feel, from what I see, what I "know" is that we have to unify and come together. This my people symbolizes PEACE!!
Japan
Authors :
— HV, 60 years old, female.
The music is confusing,
Images, shapes, not relaxing,
Feel like I've entered another dimension.
Not enjoying this experience,
Becoming claustrophobic,
I need to get out into the real world,
Where I feel safe.
Not limited to this small dark area,
I have to have space.
Colombia
Authors :
— Ricardo, 57 years old, male. /
Translated by Vivian Durmis and Lynn Palermo
This picture to analyse takes me to the walls of my cell where I remain.
It is quite normal for someone like me, engaged in self-dialogue, to be looking for lost images on the walls. That's when I begin comparing and imagining what the images represent, be it an animal, a person, an object... Maybe even a monster!
What's most interesting about this seemingly crazy exercise is that it distracts us and saves us from the potential mental alienation brought on by monotonous prison life.