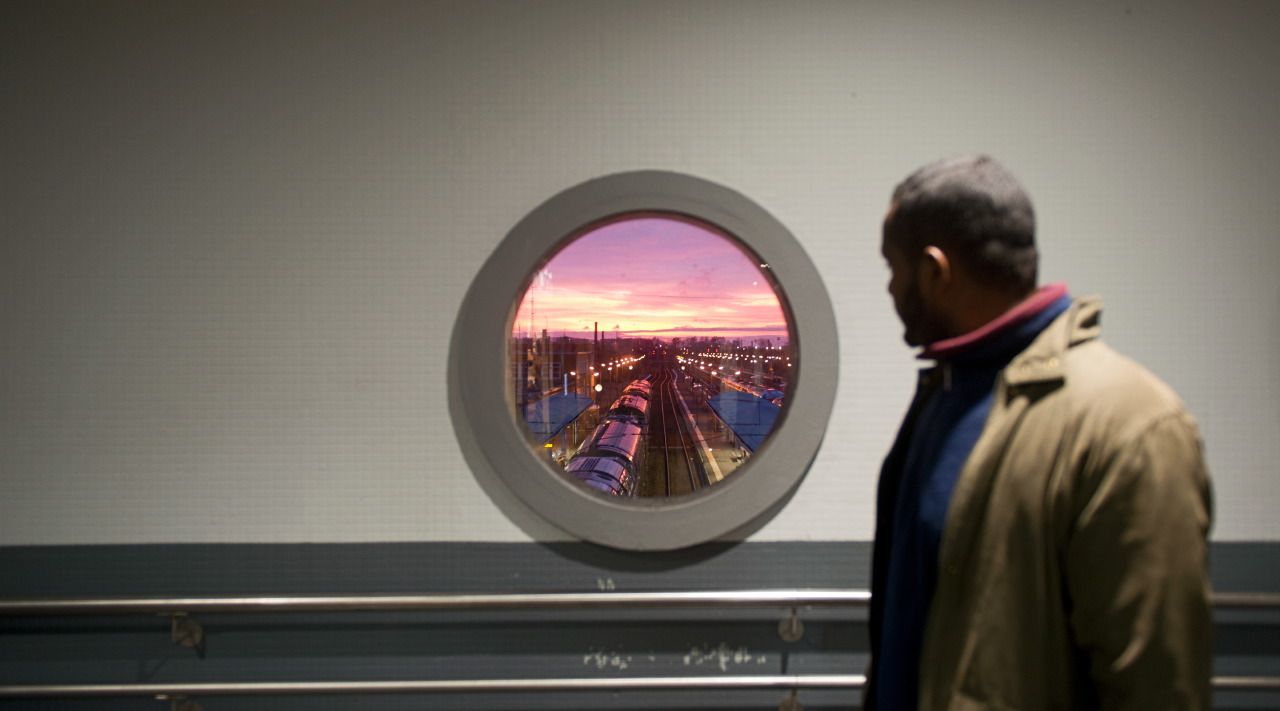 Sight — 3/12
Who is to speak for the sense of sight?
Each month, the photographer Bertrand Gaudillère creates an image or chooses one from his archives. Prison Insider sends it to a dozen participants, prisoners around the world.They are in Argentina, in the United States of America, in France, in Switzerland, in Guatemala, in Ukraine, in Colombia, in Lebanon, in Italy, in Japan, and in Belgium.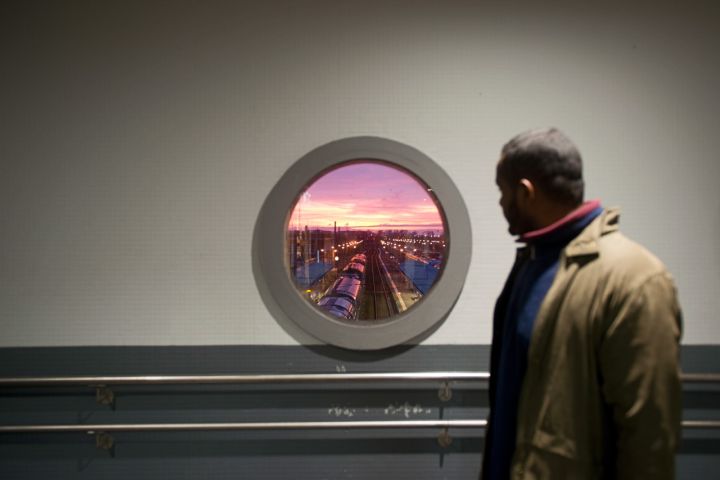 Bertrand talks to the participants
"He would like to get on the train, but the police are doing checks on the boarding platform. He is an illegal immigrant on French territory. He is afraid of being arrested, so he stands with a smile looking at the train that could take him to a better future, or maybe he is just gazing at the horizon, seeing only the beauty of the sky that lights up this winter afternoon, in Calais, in northern France…"
Bertrand
Prison Insider invites you to freely express what you feel, when, in prison, you look at this image about the sense of sight.
Colombia
Authors :
— Ricardo, 57 years old, male. /
Translated by Zoe Pilling & Tanya Solari
In my cell there's a small window, if you can even call it that. Because of the hot climate, the little fresh air that I get feels like the bare minimum for survival. This reflects the prison system's purpose here in Colombia: to keep inmates alive, but barely.
Nevertheless, I've often felt like a free man because of this small, insignificant hole for a window.
When I look out, I dream, imagine, believe, and reconstruct the world and life, regardless of the guards, walls, barbed wire, and... more police on the other side.
United States of America, Lake Placid (New York)
Authors :
— Tewhan, 39 years old, Male.
A world right before your eyes. You can feel it, but you are not welcomed
I've pondered over the photo long and hard trying to decipher what it is I was "seeing". After difficult contemplation, I realized I was looking at it all wrong. This was not about what I "see", instead what I "feel".
For my entire life I have been this man. Staring all around me at the glass ceiling, staring at a world unwelcoming to I. This man smiles, and only one who knows the pain of exclusion can honestly admit that this smile is only one to cover the pain inside. American territory, blocked off to minorities, or illegal's, ex-convicts, those with a darker hue. A world right before your eyes. You can feel it, but you are not welcomed. Here what prevents us are not police checks, but lopsided laws, economical status, and societal in crowds.
In the present you get to stare at something better, the beauty of prosperity, the nit hits you like a blow to the body by the heavyweight champion of all worlds, this is not for you !
France, Arles
Authors :
— Christophe, 43 years old, male. /
Translated by Marg Mc Millan & Gwendolyn Magnusson.
Is that what leaving this place is? Is it letting part of oneself die? The extra part which passes through the porthole, that filter which teases us with a make-believe tomorrow, so long as we are willing to give up what we really are...
Ukraine
Authors :
— Denis, 37 years old, male. /
Translated by Ukraine without Torture
Switzerland
Authors :
— Inmaculada, 45 years old, female. /
Translated by Jennifer Lee
Life is a permanent risk, a permanent re-start..
Contemplate from the window a world to which you no longer belong, a world that is so close, yet so far away.
You do not know what awaits you out there, what will become of you if you catch that train, if it will take you to the promised life or to a place with more darkness than your life has now.
Life is a permanent risk, a permanent re-start, a permanent death in life. All or nothing? There is too much risk to try to escape, to have to be running from all that remains of your life. It only remains to be content to continue contemplating the sky, full of shades of melancholy, for all those dreams that perished when prison became your new world, your new life, your new home.
Today the sky is more beautiful than ever. Try to touch it, extend your hands, but only reach the face of God.
United States of America, Schuylkill (Pennsylvania)
Authors :
— Eric, 45 years old, male.
I conclude: my future is on the horizon. Beautiful, colorful, succinct.
Hurried! My heart races faster than those who follow. Harried! My mind is obscured as my dreams are swallowed. 'Standing at the Scratch Line', hidden between two rails meant to prevent collision. Gazing from my window of opportunity where my train of thought likewise my train to freedom travels on the rails of polarity.
They scour the platform in pursuit of me. I am treated inhumanly. So does this mean I am inhuman? I am certain humans possess the inalienable right to migrate. Does this make me an alien? If true can I ignore the ignorance from the ignoramus that labels my immigration ignoble as I live out an ignominious life? I dare not impugn. Because I dare not allow my heart to bear rested before I realize my train of thought. I smile.
I conclude. I need only to gain the platform to obtain a better future.
I conclude: my future is on the horizon. Beautiful, colorful, succinct.
I conclude. I need a false ID, a false passport. A false disguise to become human. I conclude.