Smell — 5/12
Who is to speak for the sense of smell?
Each month, the photographer Bertrand Gaudillère creates an image or chooses one from his archives. Prison Insider sends it to a dozen participants, prisoners around the world.They are in Argentina, in the United States of America, in France, in Switzerland, in Guatemala, in Ukraine, in Colombia, in Italy, in Japan, and in Belgium.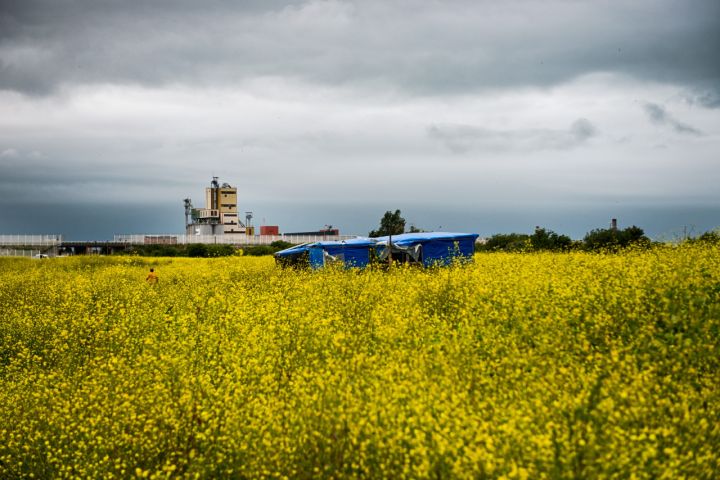 Bertrand talks to the participants
"A man walks in his canola field. He continues to the middle of a yellow sea which fills the air with a fragrance. I breathe slowly. It's a familiar smell, a scent of summer that reminds me of those long vacation days in the countryside at my grandparent's house...
It's a little piece of my childhood that instantly comes back to me..."
Bertrand
Prison Insider invites you to freely express what you feel, when, in prison, you look at this image about the sense of smell.
Japan
Authors :
— HV, 60 years old, female.
Memories of Childhood
Staying with my grandmother during school holidays, holding her hand, we walked through bluebell fields, a mass of blue with a slight aroma. But the memory that comes most to my mind is grandmothers lavender trees, breathing deeply, inhaling the intoxicating smell of lavender.
So many childhood memories, many years have passed by, trapped in my mind forever, never forgotten… Grandmothers lavender trees, I can still smell them as if it were yesterday…
United States of America, Schuylkill (Pennsylvania)
Authors :
— Eric, 45 years old, male.
The fragrance of repressed memories
-My memories are aromatic
-Blissful, sacrosanct , repressed fragrances of experiences.
-None exist; they just are.
-Ambrosial, relics of retrieval.
-Clandestine.
-Once harvested, from my mind-field I refine them in my factory of thought, whim, perception.
-My memories beget memories that beget rapture dually transcending time, suffering...space.
-They smell of warm laughter, that tickle; fiery passion that arouses; cool wisdom that stimulates and liberates.
-Languidly I traverse my fields. Inebriated by the bouquet of rich whine from my past. Which leads me to ask. Who am "I"?
-Do we smell so we can know we exist?
-As I walk my fingertips brush against my memories I dare not forget.
-The smell of dew on a blade of grass, by a porch, with a chair, which a beloved family member once sat.
-Or the Perfect day, of my first kiss, my greatest victory, my only love, my last good-bye.
-My innocence holds a scent, as do my fears.
-In my field of fragrant memories "I" exist.
France, Roanne
Authors :
— Anne-Marie, 59 years old, female /
Translated by Mwika Kankwenda & Morgan Carmody.
It is also my childhood
The photo reminds me of the vastness of the rapeseed fields I could admire. Here, the eye-catching yellow reminds me of freedom and the scent of the countryside, with its fresh grass and fields of dewy fragrances. It is also my childhood.
I remember a time in the countryside, 42 years ago, at my uncle's home in Chaponnay. The rapeseed, corn, and wheat fields emanate a fresh scent, I can feel from the confined universe in which I find myself in.
Even as I write about it, the scent is in my nose. Long live freedom and its smell!
Switzerland
Authors :
— Inmaculada, 36 years old, female. /
Translated by Jennifer Lee & Shannon Kirby
There is still beauty. I know.
Despite the walls that keep me trapped in this prison, I know that beyond them, things retain their colour, their taste, their smell.
Everything is tasteless here, including the air. In the distance I see trees, fields, mountains and forests, but everything here has lost its smell.
Even among the ugliness, the dirt that covers everything here, my imagination escapes, flies away...
To places with the smells of sea and salt, with the sounds of waves and wind, that remind me of where I come from, and the place that I left behind without saying goodbye.
I will return to seek out my dreams, my joys and my great hopes. I will return to the place that bears the name Mediterranean.
Italy
Authors :
— Giuseppe, 40 years old, male. /
Translated by Tanya Solari & Kelly Field.
For an inmate, any image of nature evokes memories of a time long gone.
This photograph takes me back to when I was young and carefree. As soon as I finished my homework, I'd go play in the nearby woods with my friends.
Those woods were filled with Scotch brooms, which are very similar to the rapeseed flowers you see in the photo.
We stayed out late far too many times. When this would happen, our mothers would call out after us. We would then pick up the most beautiful Scotch broom branch we could find and bring them back to our mothers in hopes that this would soften our well-deserved punishment.
__ Read the original version (in Italian)
Guatemala
Authors :
— Carlos, 67 years old, male. /
Translated by Briane Laruy & Jeanette Trestini.
I don't know if you have much time left to live, but what is left of it. Live it intensely.
"The field of life"
Everyonemoves through the field of life
And, all of us, without exception,
Follow the same path,
Some morethan others.
Opportunities present themselves;
One must be wise enough to recognize them.
Remember, joy is as fleeting as thestars.
Yet hardship seems eternal.
By chance, nothing stops time.
Problems leave their marks, traces of the past
And some remind usthat
We should not stumble over the same stone.
I don't know if you have much time left to live,
But what is left of it
Live it intensely.
And you will once again see the flowering fields.
Memories will come, some pleasant and others less.
But for as long as the sun shines, keep moving ahead.
What you are looking for may be nearby,
Just beyond the clouds.
Keep fighting,
Even if you fall.
What matters is that you get up.
Only you can make the choice to stay down
Or rise and move forward.
United States of America, Lake Placid (New York)
Authors :
— Tewhan, 39 years old, Male.
What comes back to me, I wish I could leave behind.
Oh, how I wish I could smell the sweet scent of freedom, imagine what it would be like to walk freely.
Where I am from, there are no canola fields, no yellow seas, only the treacherous scent of despair. Of all I had seen, I found this to be the most complexed to translate. My childhood knows not vacation days, air filled with the fragrance of country side mornings. When there was summer, we did not travel to, or through the yellow sea.
This "lone" home reminds me of just how lonely my current life truly is. The yellow sea raises the thought of one drowning in this dark abyss, trapped in the center of nowhere.
What comes back to me, I wish I could leave behind. This photos haunts, hurts, brings tears to my eyes. How could something so beautiful hold something so, so, maybe there is no word to describe. I look atop this photo and see the sky gloomy, almost like what the sky is like above me now. Dark, clouded, the rain is near falling, summer, yet the sun does not shine.
What if I was a child again? What if I learned to walk a different way, take another road. What if I had the pleasure of experiencing the scent of canola fields, the yellow sea? Maybe, just maybe, I would not be here.
France, Arles
Authors :
— Christophe, 43 years old, male. /
Translated by Translated by Marg Mc Millan & Gwendoline Magnusson
The aroma is unattainable. It is the movie teaser for the freedom that is out of our reach. It is the odor that exists only in our memory, the intoxicating dance of the imagination, feeding our desires. It is merely the imprint of the idea we have about what is, and what we no longer have.
Argentina
Authors :
— Pablo, 36 years old, male. /
Translated by Desirée Morales & Kelly Field.
Her fragrance stays with me, until it fades away...
The sense of smell in prison awakens several feelings in me…
When I open a book, I have the habit of smelling it. I love that musty smell of its yellowish pages that revives my olfactory memory and takes me to the pasture of my uncle's farm (in San Pedro, Buenos Aires), where I used to sit in peace and freedom.
My wife's scent also revives my memory… I always ask her to spray her perfume on her handkerchief or scarf the day before she comes to see me. This way, at the end of the visit, when she says goodbye, her fragrance stays with me, until it fades away. She does the same thing: she takes an object of mine, and even though it doesn't smell like anything, it allows her to feel close to me.