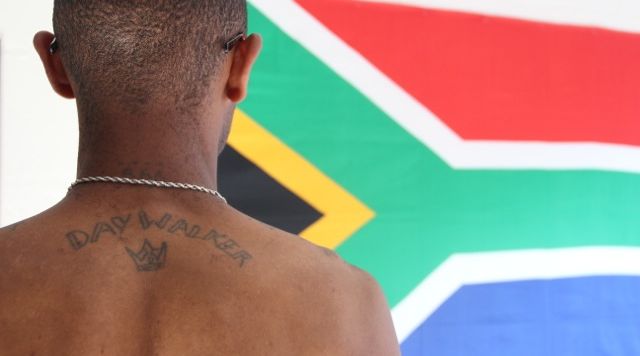 Back to map
South Africa
Capital city —

Pretoria
Incarceration rate (per 100,000 inhabit…

Name of authority in charge of the pris…

Total number of prisoners

i

2017

/ Department of Correctional Services

Total number of prison facilities

An NPM has been established

Number and percentage of female prisone…

i

2017

/ Department of Correctional Services

i

2017

/ Department of Correctional Services

Death penalty is abolished
+
Specific population
Prison population
The prison population amounted to 161,054 inmates as of March 2017 (161,984 as of March 2016). The prison population has shown an overall 40% increase since 1994.
The prison population rate was 286 prisoners per 100,000 inhabitants as of the end of March 2017 (291 as of March 2016). It has decreased since 2004, when it stood at 403 prisoners per 100,000 inhabitants.
The prison population is very young. 40,803 inmates were under 25, as of 31 April 2015. 40% of them were on remand1. 3,656 sentenced offenders were between 18 and 20 years old during 2016/2017 (4,123 during 2015/2016).2
As of 2016/2017, the official capacity stood at 119,134 places nationwide3. This figure, compared to the number of prisoners, showed an occupancy rate of 135% as of March 2017. Some penitentiary facilities reached over 200% of their capacity in 2015-2016, such as Malmesbury Centre, Pollsmoor Remand Centre and Johannesburg Medium B Centre4. Two legislative developments of the late 1990s contributed to the high incarceration rates:
Since 1998, district magistrates are entitled to impose longer sentences without sentencing guidelines.
The Criminal Law Amendment Act of 1997 stipulates mandatory minimum sentences for certain serious crimes (from 15 years to life imprisonment). The minimum sentencing provision was meant to be temporary, but is now a permanent part of the sentencing practice.
43,799 inmates were awaiting trial as of March 2017 (45,043 as of 2016). Pre-trial detainees represent 27.2% of the prison population (27,9% as of 2016).
Inmates awaiting trial should be housed separately from sentenced inmates, as stated in the Correctional Services Act. In practice, this requirement is not properly met. Pre-trial detainees are often held in worse conditions than sentenced inmates.
As of 31 April 2015, 17% of the remand population are being held on unaffordable bail amounts5.
Poor African and coloured people are predominantly arrested and imprisoned. According to Africa Check, about 80% of South-African prisoners are Black, about 12% are Coloured, about 1.6% are White and less than 1% are Asian/Indian as of the end of 2016. A 2013 research explains that "African men aged 15 to 65 years are also six times more likely to be imprisoned than White males." The same research indicates that "African and Coloured people are most likely to be held awaiting trial".
The ratio of awaiting-trial admissions to sentenced admissions increased from 6:5 in 2001 to a peak of 16:5 in 2008 before stabilizing at around 9:46.
Pre-trial detainees
i
31/03/2017
/ Department of Correctional Services
Women
Female inmates represented 2.6% (4,174) of the global prison population as of March 2017. At the same time, 1,195 of them were awaiting trial1.
Women are held in nine women-only prisons or in female units inside regular prisons.
Men sometimes work as staff in female prisons. Sexual abuses on women by male staff have been reported. The abusive domestic context in which women generally live before imprisonment is replicated through the violence perpetrated by male staff.
Some female inmates hold positions of power and influence inside the prisons. They are called "kitchen ladies" because they usually run the prison's kitchen. They trade goods or services against the food they have access to. Fellow inmates may be forced to engage in sexual relations with kitchen ladies in exchange of protection.
Women cells are insalubrious. They have substandard sanitation, especially in the awaiting-trial section. Toilets and showers are dirty and/or blocked and showers do not provide warm water. The number of bathroom facilities is also insufficient and toilet paper and soap supplies are inadequate2.
Bangkok rules recommend access to a gynaecologist and sanitary napkins for women. According to sociologist Dr. Caroline Agboola, some prisons do not have doctors to attend to the medical needs of female prisoners. Nurses are outnumbered too. In 2016, there was only one psychologist, one doctor and one dentist in the women's block of Pollsmoor prison.
Medical treatments are sometimes not properly provided. For example, in Pollsmoor prison, several HIV-positive women were not receiving their antiretroviral treatment in 2016. A number of pregnant female inmates do not receive medical care at any point in their incarceration, and some pregnancies are unnoticed by the authorities.
There were 16 mother and baby units in 20163. Children are allowed to stay with their mother until they reach the age of two. Pollsmoor prison includes a separate mother and baby unit and a crèche. Children born before their mothers' incarceration often end up in a precarious situation. The White Paper on Corrections in South Africa only stipulates that women should be incarcerated close to their home. In Pollsmoor Prison, in 2016, 70 women were placed in a cell meant for 30. A few of them sleep on the floor. Cells are poorly aerated and infested with lice and cockroaches. Women prisons were less overcrowded than male ones, in 2016, but overcrowding generates the same tensions and competition for resources. Sometimes two women must share a single bed.
Female prisoners
i
31/03/2017
/ Department of Correctional Services
The law forbids the imprisonment of children under 14.
Minors can be detained before trial, up to 120 days.
The number of children in correctional facilities has gradually dropped since 2000:
An average of 3,910 sentenced and remand children as of 2000
An average of 402 sentenced and remand children as of 2014
According to the Department of Correctional Services (DCS) Annual Report 2016/2017, there were 148 sentenced children in the DCS facilities (147 males and 1 female) - and 187 during 2015/2016. While 110 children were in remand detention as at 31 March 2017 (104 males and 6 females).
This decrease was spurred on by the implementation of the Child Justice Act in 2010 that promotes imprisonment as the last resort.
Children and adults sometimes live in the same facilities but in different units. The Department of Correctional Services (DCS) therefore oversees these minors even though their officials are not trained to work with children.
Yet, all children who are charged with a criminal offence are under the supervision of the Department of Social Development (DSD). For instance, the DSD ensures that all children are assessed by a probation officer and either referred to the Children's Court, recommended for counseling, or placed in a secure care facility. It is responsible for the provision of educational programmes to children awaiting trial, for the provision and management of child and youth care centres (CYCCs) for children awaiting trial. The Correctional Services Act requires that all children of compulsory school age – under 15 years old – must have access to education. Yet, in practice, children are not always provided with educational services.
The non-profit organisation Young in Prison South Africa (YiPSA), established in 2008, works with children in conflict with the law. They focus on rehabilitation through art therapy workshops within correctional centres in Cape Town and Johannesburg.
Foreigners
Foreigners-nationals represented 6.3% of the prison population as of 31st of March 2015 (10,170 prisoners). 11,842 foreigners were being held in South African correctional facilities as for June 2017. Of these, 62% had been sentenced and 38% were awaiting trial1.
Around 12% (1,380) of the foreigners-nationals incarcerated in South African prisons, were being prosecuted for being in the country illegally.
The majority were Zimbabweans (41.5%), followed by Mozambicans (24%).
Nigerian inmates are victim of xenophobia from prison officials. They are considered to be the most discriminated nationality in South African prisons.
Foreign prisoners
i
31/03/2015
/ World Prison Brief
South Africa's criminal code does not incriminate sexual orientation or identity.
LGBTIQ inmates are not always placed in individual cells, even though they are considered to be at risk in collective ones.
After the apartheid, a Commission was created in order to grant amnesty to prisoners on the condition that the crimes they had committed during the apartheid were politically motivated.
In 2007, the South African president Thabo Mbeki established a pardon program for prisoners who had not been released by the previous Commission.
In 2017, prisons still hold people waiting for their case to be examined as part of this program. According to the Pan Africanist Congress, 130 of its members are still in prison for crimes committed during the apartheid era.
Inmates may be separated on the basis of age. There are no specific treatment plans for the elderly.
Inmates may be separated on the basis of their health condition.
In November 2016, the world-famous disabled athlete Oscar Pistorius was transferred from the medical unit of Pretoria Prison to Atteridgeville Prison, which is adapted to his condition.
However, most disabled inmates do not benefit from such conditions of detention. In 2014, Eric Viljoen lived in an overcrowded cell with 37 people in Kgosi Mampuru Prison (Pretoria). He wore a prosthetic leg like Oscar Pistorius but says he was not placed in a handicap-adapted cell. In Kgosi Mampuru Prison, there is only one block with ramps and without steps near the prison hospital. But even there, the ramps are tiled and very slippery. He said the Department of Correctional Services (DCS) did not provide him a wheelchair and instead he was put in a waiting list for three-years. He also required a new prosthetic leg but had to refuse surgery in prison because the ones the DCS provided were very low quality.
Prisoners with serious mental disabilities, or illnesses, are being shunted to the prison system. They are at increased risk of violence and poor health conditions. Indeed, according to the Judicial Inspectorate of Correctional Service (JICS), mentally ill inmates are usually incarcerated with the general inmate population in order to avoid self-harm. However, this poses risk to other inmates. Custodial officials are not adequately trained and equipped to deal with mentally ill inmates1.